So the fatigue had begun to catch up to me and I had a bit of trouble focusing. So much so that I chucked the first sequence of 5 images this morning as soon as I began processing. This second set of 5 was better and I decided to push on with processing. I threaded the 2x Barlow just out just a bit more away from the camera chip. FC indicates these are almost f/16. I haven't calculated it yet myself but they did require slightly larger cut box that yesterday morning.
ASI485MC camera at GAIN = 425 and 7ms exposure. I squeezed the ROI as close as I could and still keep the planet in the FOV without too much manual drive adjustments on RA and moto-control adjustment on DEC. This resulted in a 127 fps frame rate, closer to the expected 143 fps the 7ms ought to deliver. My ASI290MC would have been right there at 143!!!.
Processed in R6, WinJuPOS, the output from WJ into AstraImage and PaintShop Pro. Two versions, one in which I brought the de-rotated image back into R6 for a second dose of wavelets prior to AstraImage but I think you'll agree that introduces too many artifacts (listen to me talk like I don't habitually over-sharpen my images!!!
The one that I think is not too bad.
AstraImage processing was 1.0 de-convolution, 3px de-noise, 0.67x size reduction, multi-scale sharpening, 3px de-noise, 15% sat, 15% vib, color temp adjust to 6500K.
In PSP 2022, unsharp mask (Only on the disk), 0.5x size reduction, canvas size crop, high-pass sharpen, white balance (I know probably negates the need to adjust color temp in AstraImage)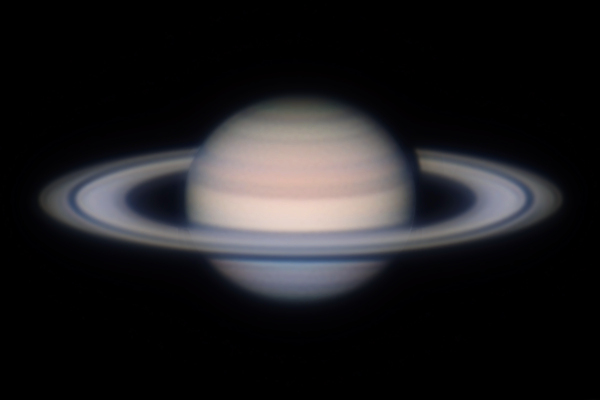 Here'e the one that's too much. All the same processing as above post second R6 wavelets of course. I know there are plenty of us who push hard and might think this is the better output but I think not as I continue to try and improve. Even now as I look at the previous image I'm seeing too many artifacts in that image still.