Seeing wasn't great although I have figured out what's been going on with Jupiter of late. When I'm imaging Saturn close to the meridian, I'm viewing across about 300 m of open field and trees before you get to the next house. When imaging Jupiter, especially this morning because when GRS was centered on the disk Jupiter was still only at about 30 degrees altitude. The house in that direction is barely 50m away and I'm imaging over it's roof. DUH I think is the phrase.
ASI485MC. GAIN = 300 8ms frame rate. 1.5x drizzle. These are 15% of 17,500 frames captured at about 97 fps. A bit shy of the 125 fps you'd expect at this exposure. ROI was cropped in a small as my manual scope would allow.
This first image is straight out of WinJuPOS and into PaintShop Pro 2022, bypassing AstraImage altogether. Used Unsharp mask before the size reduction of 0.67x and high-pass sharpening afterwards with denoise at each step. Sat and Vib bump of 15%. White Balance using a point of the bands.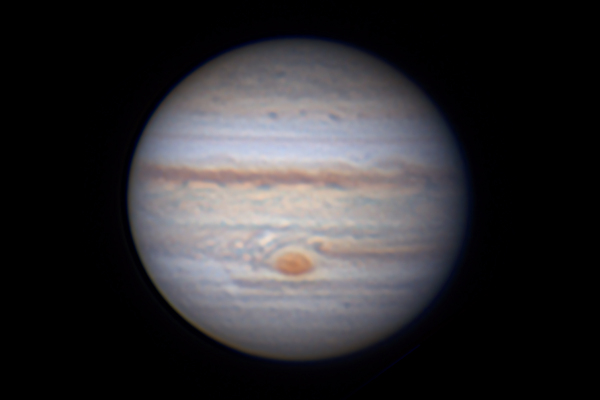 This image was processed in AstraImage after WinJuPOS. But left at the capture size before pulling it into PaintShop Pro 2022. I did the size reduction and saturation bumps in there. Note: I "discovered" a new trick for me that I had never thought of for Jupiter. After WinJuPOS processing on Jupiter I sometimes (OFTEN) get a rind on the edge of the disk that it difficult to remove after it forms. For these images, I used an edge-finding freehand selection tool with a 5px feather and selected the disk JUST at the edge of the limb darkening portion of the disk not at the edge of the disk itself. There's essentially no details in there anyway but not when sharpening the selection more central portion of the disk you don't get the rind developing. I know EVERYONE probably already knows this trick. I credit Daryl with the idea when he suggested sharpening just the disk on Saturn in a comment the other day.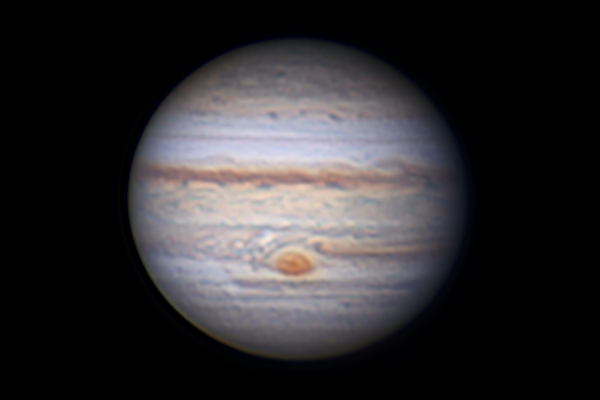 To finish up, this final image was size-reduced inside AstraImage and then brought into Paint Shop Pro. The "disadvantage" of this (for me!) is that I'm not that good at de-convolution yet and I can't isolate the edge of the disk from the effects of sharpening in AstraImage (or if I can I don't know how yet)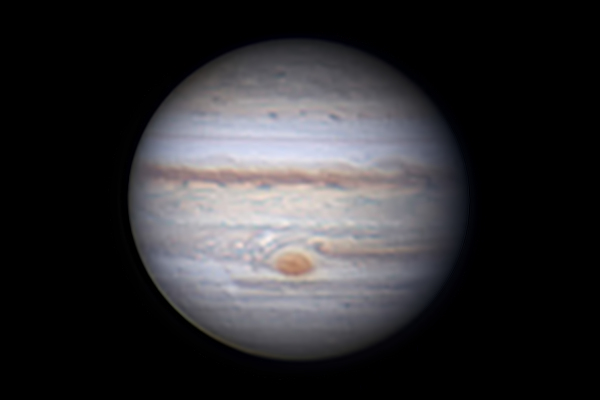 Now I understand that these image are not all that by any stretch and I'm not posting this description for the experts in here but I'm sure there are a lot of folks in hear that are where I was 180 months ago and maybe I can reduce their struggles a bit. My apologies for anyone for which this is "old hat" as they say.
Edited by dcaponeii, 26 June 2022 - 01:20 PM.