Finally got my new AA Plus and headed out to to gather some data. I've been a long time NINA + Laptop user and was very leary about ditching the laptop with the nice 15 inch screen. I have to say that I am very happy with my first time with the AA Plus. The guiding was amazing. I'm hoping it wasnt just a fluke that night with really clear skies, but all I know is that I typically never have stars this good. Fingers crossed that this trend continues!
M20
60 x 180 secs
William Optics Z103 with .8 reducer/flattener
ASI2600MC
EQ6R
Full image https://astrob.in/aadd3l/0/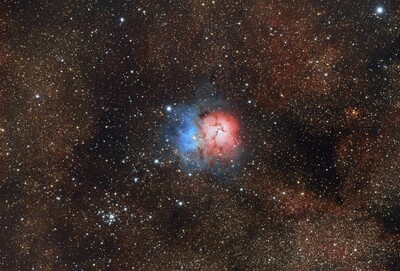 Edited by TXLS99, 30 June 2022 - 08:42 AM.