Hi Everyone,
I just wanted to post my first DSO, M101.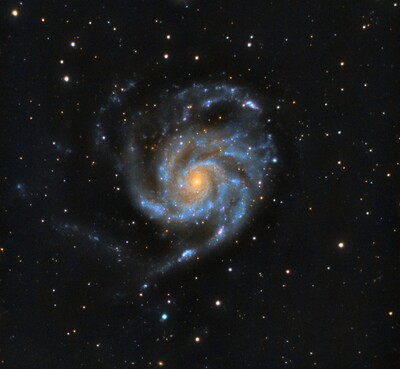 Subs: 60s x ~1200 over the course of 12 nights
Scope: C6 with f6.3 reducer, 945mm f6.3 (1141mm f7.5 measured by plate solving)
Camera: ZWO ASI533MC Pro
Mount: iOptron GEM28
Guider: 240mm f4.0, w/ ZWO ASI290MM Mini
Software: NINA, PHD2 and PixInsight
I started in astronomy 30+ years ago. My first real scope was a 5" SCT, and my second was an 11". I gave it up for years, but now I'm back. I just bought all new equipment a couple months ago, and I've been playing every clear night since. It's quite the learning curve with all the new technology, but I've learned a lot in the past couple months. I can't wait for my next target.
Thanks for looking.
Clear skies!
Edited by Ntro, 30 June 2022 - 11:25 PM.