From my gallery: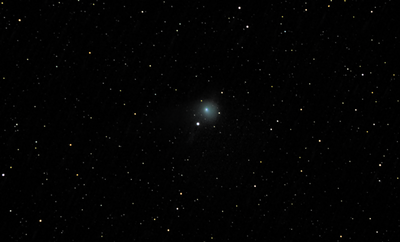 I wasn't sure I would be able to capture the comet through my Celestron EdgeHD 8" and 0.7X reducer (~1472 mm focal length) but I was able to look up the RA/DEC through theskylive website and after polar alignment, 1 star alignment and 1 plate solve I was able to see it on the SharpCap screen.
This is 34 x 180 second, 10 darks, 50 flats, 50 darkflats stacked with DSS using the comet+star alignment. I can barely see the tail in the stretched stack (StarTools) but wasn't able to bring it out through processing without making a mess out of the rest of the image. I was using my ASI294MC-P at a gain of 121 and temperature of -15C, guided through an OAG and ASI224MC camera.
Here's an animation of the frames:
I wasn't sure if there's an easy way to make the animation but I basically used DSS to process each separate frame with the calibration files. Then processed each calibrated frame with Startools using the same settings. Finally, used PIPP to make the animation with a framerate of 2 seconds per frame.