An hour after my awful Saturn shot, I turned my scope to Jupiter. Details on the surface on which to focus were hard to come by, so I had to go with the planet's edge. Jupiter's available features were banal to begin with, so the result was less than meh.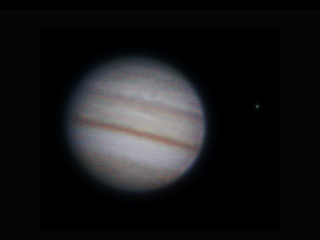 Jupiter w/ Ganymede 2022-07-04 08:11 UTC
Skywatcher Mak 180
Fujiyama 12.5mm ortho
Canon 600D/T3i
When I brought my rig inside, there was all this wetness everywhere that I literally never had in 5 years of imaging in the Australian Outback. What dew you reckon that was? And dew you think that affected the image at all?
BQ
P.S. Dew shield is on order…
Edited by BQ Octantis, 04 July 2022 - 07:35 PM.