Hi folks,
I've been hanging around this 4.5° wide structure in Cygnus all summer. With its faint narrowband emissions and the mass of stars it's a challenge, but nevertheless it was doable even on bright nights. After it came to nothing with the mosaic with the small refractor and I then imaged Sh2-91/94/96 with the large refractor (130/910 mm at f/5.75), it appealed to me to try to get the whole structure on the sensor. The first attempt was made with a historic Carl Zeiss 180/2.8, but the coma on the stars put me off and I then tried it with an SMC Pentax-M 135/3.5 from the 70s of the last century. Even with that, the stars looked terrible, though I stopped down to f/5.6. However, stacking straightened it a bit, so I dare to post the result here.
SNR G65.3+5.7 in the constellation Swan is huge ( 9 x bigger than the Moon!) and nicely structured. The brighter parts were thought to be indepensent single structures until Gull et al. discovered the true nature of the object in 1977.
I won't be shooting RGB stars because I think the narrow band stars look better with this lens and the very high stellar density of the region. Instead, I will still try to catch the northeast corner of the SNR with the large refractor. There seems to be very nice filigree OIII structures there. However, as far as I know, the corner does not have a name.
Enough written, here is the image:
Full resolution and annotations are here: https://astrob.in/ay0our/0/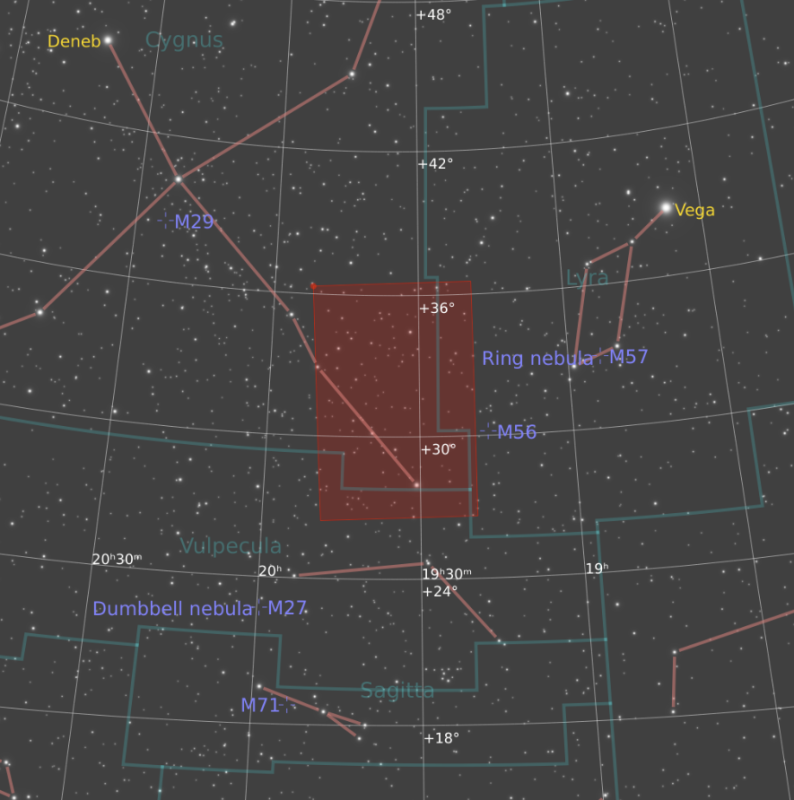 I hope you like it - comments and criticism welcome as always!
Cheerd
Pete
Data:
Hemisphere: Northern · Constellation: Cygnus (Cyg)
Contains: IC 1302 · IC 1303 · LBN 144 · LBN 147 · LBN 148 · LBN 150 · LDN 794 · LDN 795 · LDN 799 · LDN 800 · LDN 803 · LDN 806 · LDN 807 · LDN 808 · LDN 810 · LDN 811 · LDN 812 · LDN 813 · LDN 815 · LDN 816 · LDN 817 · LDN 819 · LDN 821 · LDN 828 · NGC 6813 · PK061+03.1 · PK066+02.2 · PK071+04.1 · Sh2-91 · Sh2-92 · Sh2-94 · Sh2-96
Equipment:
Imaging Telescopes Or Lenses Pentax SMC Super Takumar 135mm f/3.5
Imaging Cameras ZWO ASI2600MM Pro
Mounts Sky-Watcher EQ8-R
Filters Astronomik H-alpha CCD 6nm · Chroma OIII 3nm Bandpass
Software Adobe Photoshop · Aries Productions Astro Pixel Processor (APP) · Stefan Berg Nighttime Imaging 'N' Astronomy (NINA)
Acquisition details
Dates:Aug. 2, 2022 · Aug. 3, 2022
Frames:
Astronomik H-alpha CCD 6nm: 25x600" (4h 10')
Chroma OIII 3nm Bandpass: 29x600" (4h 50')
Integration:9hAvg. Moon age:4.92 daysAvg. Moon phase:25.10%
RA center: 19h34m46s.48
DEC center: +31°32′13″.1
Pixel scale: 5.726 arcsec/pixel
Orientation: 1.756 degrees
Field radius: 6.018 degrees
Resolution: 4215x6280
File size: 29.7 MB
Data source: Backyard