Lately I only got 1-2hrs of clear skies, so I did some experimenting.
I have a ZWO ASI178MC, which I've been using as a guider, but I wanted it put to test how it does as a deep sky imager.
The purpose of doing this isn't to get best possible image possible, but what can a $250 camera with a $275 telescope do on a $370 mount. (prices may vary right now and of course, add other expenses like the wedge; flattener; cables etc. )
The other purpose is that I want to test an uncooled camera in one of the worst possible situation do - meaning in he middle of the scorching hot summer
So as you can see above on the picture, I got a mini guide scope + Svbony 105 camera, which isn't the best choice for guiding cameras, but I had no intention to disassemble my ZWO120mm from my big rig.
I also custom made an extended dew shield for the Evoguide via 3D printing, because it gets terrible reflections coming from sideways and the short and fixed metal dew shield is just not enough, not to mention it's shiny-black inside.
Not a very good idea from Skywatcher.
I'm using a dovetail meant for DSLRs and it's not a Vixen-type (forgot the name) , but no problem tightening into the alt-azGTI- Its purpose only so I can attach the guider and have the rig balanced.
Problems:
The camera has only 12.5mm focal flange distance, which means with most flatteners requiring 55mm backspacing, I have to come up with 42.5mm.
This is was no problem.
The problem came with the Skywatcher Evoguide 50ED mini scope, which has a limited amount of focus travel distance.
Using the Starizona flattener specifically made for this scope and with the 42.5mm extensions to get a flat field, I ran out of focus travel to reach star focus.
The stars were not in focus, while the focuser was turned all the way in. Crazy as it sounds, I was missing a half more turn.
I'm sure if I would attach it my 80mm scope I could probably reach focus (I have to test this).
So I ended up using the extension tube, that comes with the telescope, but it's only ~40mm long , so 2.5mm too short to get a flat field but now I can get the stars in focus.
Crazy, isn't it? 2.5mm too short, I get stars in focus, 42.5mm backspacing won't.
You can see that extension piece in the picture above, between the camera and the telescope.
I guess I had to compromise here, whether to get elongated stars in the corners and reach focus, or have a flat field but out of focus. The choice was obvious.
I almost gave up at this point. but I went on.
Result:
I polar aligned- and I managed to get 29 minutes and 58 seconds on the Eagle Nebula, before the clouds ended my experiment prematurely.
30 darks, 30 flats, 30 bias applied.
This camera has an amp-glow, so darks are a must.
I only used a UV-IR filter.
Gain at 0, 40 second exposures.
For what it's worth, I think this is still an acceptable performance from such a budget rig I've thrown together.
It also help to dissipate some myths that uncooled cameras are absolutely no good for DSO imaging. (DSLRs are uncooled too)
Anyone who just can't afford a cooled camera and don't want a DSLR to be used, there are a few uncooled cameras with comparably larger sensors and bigger field of view than the typical guider and planetary cameras.
The 178MC 183MC , 294MC and a few more. Significantly cheaper than their cooled counterpart, and I have to stress this, that they will not produce a better image than a cooled camera.
I can see the same test performed in a cooler season could only make the images better.
I'm planning to do a longer session (praying for clear skies) , because 30 minutes is just nothing.
Anyway, here is the image I managed to pull out of my light polluted Southern sky, radiated by heat, rising from the roofs. Star shapes aren't right , due to wrong backspacing, for the reasons mentioned above.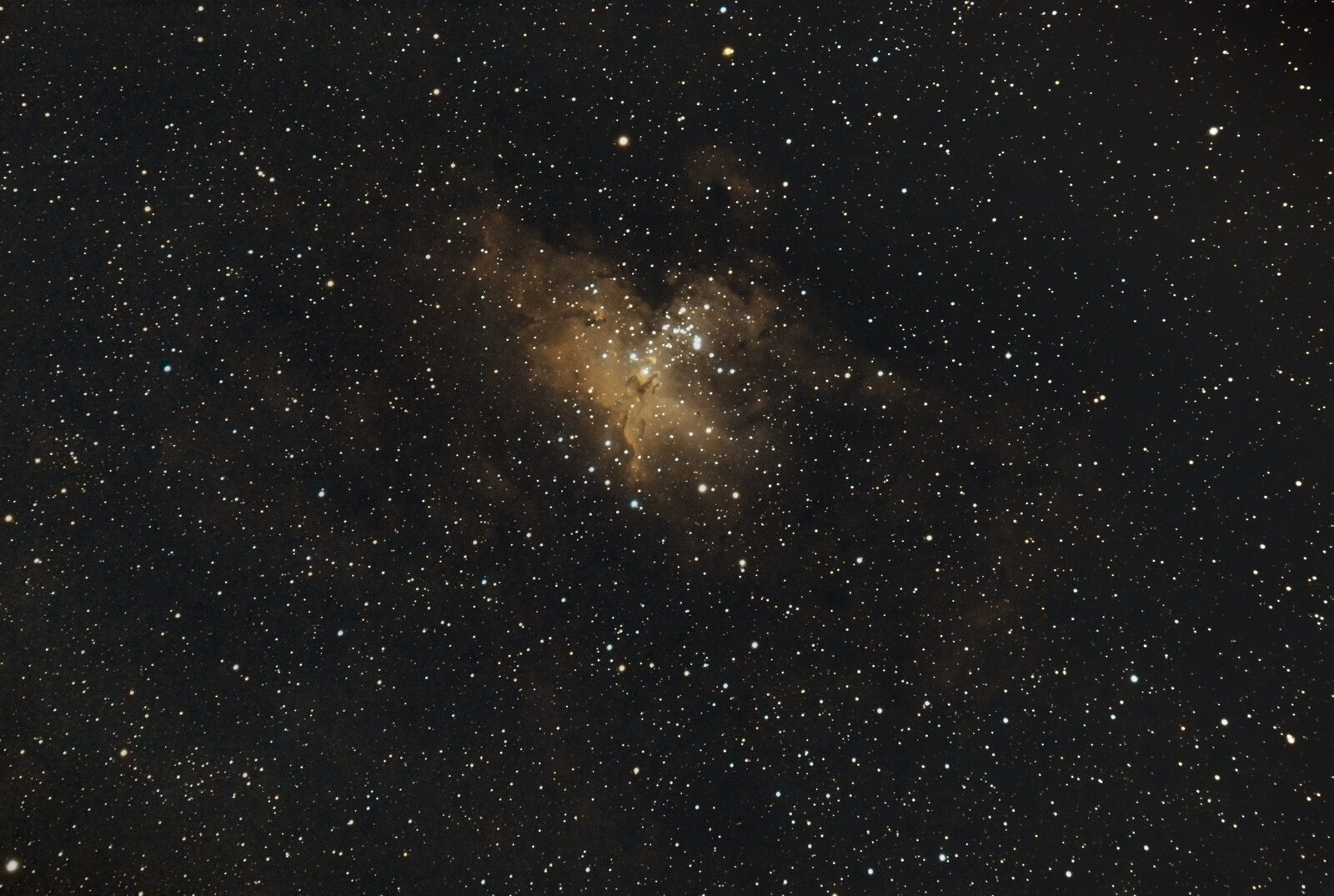 Edited by unimatrix0, 06 August 2022 - 12:19 PM.