First off, a bit of backstory: These days, third party lens maker Sigma is actually besting the majors such as Nikon and Canon when it comes to the demanding realm of lenses for astrophotography. I have the excellent Sigma Art 40 mm f/1.4 Art lens (among others in their ART line), which is very sharp into the corners, but I have yet to find any fast, shorter focal length lens that doesn't exhibit significant corner aberrations. These render the corner stars as gull wings, and while generally referred to as "coma", the problem is actually a combination of oblique sagittal spherical aberration and astigmatism. My search for a fast, shorter focal length astrophotography lens has tended to rely upon the excellent website https://www.lenstip.com, which has a data base of nearly 500 lenses, each of which is imaged both wide open and stopped down, using artificial corner stars. The section of any of their reviews to focus on is "#7: Coma, astigmatism, and bokeh". To date, I have found no lenses shorter than 40 mm FL that exhibit pinpoint full frame corner stars wide open, which is admittedly a big ask.
Sigma introduced a reflex camera 20 mm f/1.4 ART lens in 2015, and as you can see in this link, its full frame corner aberrations wide open are substantial:
https://www.lenstip...._and_bokeh.html
Over the last few years, a number of Sigma's excellent reflex camera ART lenses have been reissued for MILC's. I corresponded with a technical expert at Sigma several years ago to ask if those were all new designs, with new optics, or simply shorter mount versions of their existing ART lenses. At that time, he replied that these were really mechanical reissues, with no major optical changes.
A week ago, Sigma launched 20 and 24 mm f/1.4 ART lenses for MILC's. My assumption when I first saw that news was that these too were simply shorter mount versions of their earlier (2015) reflex camera ART lenses of the same FL and speed. But a promotional video for the new Sigma 20 mm ART f/1.4 DG DN lens caught my attention. In it, astrophotographer and "Sigma Ambassador" Jack Fusco claims pinpoint stars into the corners wide open, which would be a first in the fast, under 40 mm FL category. Here is a link to that promotional video:
https://www.youtube....h?v=sS5jBIDniAw
"Developed from the ground up to meet and exceed the evolving needs of astrophotographers"
"When the stars in the corners of your lens look just as sharp as the ones in the center, you know you've found a special lens".
The new Sigma 20 mm f/1.4 ART lens includes a number of features that are targeted at astrophotographers:
A manual focus ring with a unique and valuable manual focus lock switch
A manual aperture ring, with a switch to choose between smooth and 1/3 EV clickable settings
An aperture lock switch
Threads for a front 82 mm filter (rare in ultrawide primes)
A 23 x 29 mm compartment for a rear filter
A front element retaining feature for lens heaters
The optical design features a whopping seventeen elements in fifteen groups, with two super low dispersion and three aspherical elements (including both the large front element and the rearmost one); here is a cross-section: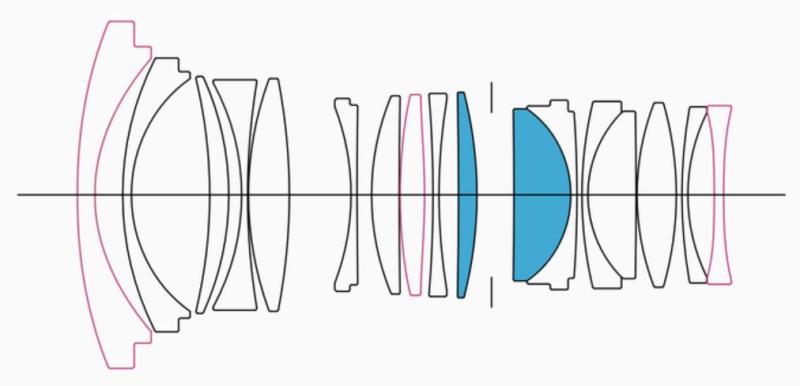 Sigma's new 20 mm f/1.4 lens is available for pre-order ($899) for Sony E and Leica L mounts (18 and 20 mm FFD, respectively), and with its manual focus and aperture rings, it is conceivable that a third party thin adapter could be created to mate this lens to dedicated astrocameras, and not just MILC's. The key question here is whether the "manual" focus ring actually moves the lenses mechanically, or if it is simply sending electronic signals to a MILC camera, which in turn actuates the focus motor.
The description over at B&H Photo Video includes: "Optimized for astrophotography, the lens offers extremely well-controlled sagittal coma flare and limits ghosting."
Lenstips has received a pre-production version of one of these lenses to review, but all they have made available so far is a short "first impressions and sample images" summary, with no nighttime images or their usual complete review with corner shots of artificial stars:
https://www.youtube....h?v=sS5jBIDniAw
A full review should be forthcoming once production begins, and will also provide an independent assessment of corner star image quality. They do note that when shooting wide open, vignetting is significant (hardly a surprise); this amounts to -3.5 EV at the field corners, but that's what flat fields are for.
Under the "Build quality" section, they do describe the manual focus ring as a "focus-by-wire mechanism", so maybe this lens couldn't be used on a dedicated astrocamera after all. I will try and find out if this is possible.
[Edit: The Nico Carver video linked in jonnybravo0311's reply makes it clear (at 08:11) that the "manual" focus ring has no mechanical connection to the lens group that moves for focus, so fitting this lens to a dedicated astrocamera isn't going to happen.]
After subtracting the camera sensor depth, there wouldn't be enough remaining thickness to let someone like Astromechanics make a USB lens controller for this lens. Sergey at Astromechanics has specifically indicated that he couldn't do it for cameras such as the ASI6200.
The aforementioned astrophotographer Jack Fusco wrote a blog piece on this new lens, link here:
https://blog.sigmaph...dg-dn-art-lens/
This does include some star images, including a zoom into the corners at both f/2 and wide open at f/1.4. The star images seem to show a slight bit of trailing, but no sign of the classical gull wing aberrations. A quote from that blog post is highlighted: "Shot wide open, F1.4, the entire frame looked great with pin-point stars from the center all the way to the extreme corners.". That really sounds like a breakthrough!
As mentioned above, last week's Sigma launch event also included a 24 mm f/1.4 ART lens, which judging from its optical design (17 elements in 14 groups, with 1 SLD, 3 FLD, and 4 aspherical elements), certainly also seems to have been "developed from the ground up", and isn't simply a new mount reissue of the 2015 lens. But its marketing materials don't mention astrophotography as a focus market, as the new 20 mm f/1.4 does, so perhaps it doesn't handle the field corners quite as well.
All the best,
Kevin
Edited by Coconuts, 14 August 2022 - 04:25 PM.