I recently received my long-awaited EdgeHD 8 and have been running tests before heading out for a full night of imaging. First, my configuration:
Mount: CEM40
Telescope: EdgeHD 8 with and without the Celestron EdgeHD focal reducer
EAF: Rigel Systems nFocus
Imaging camera: ASI2600MC-Pro (APS-C sensor)
Guide camera: ASI290MM-Mini on an OAG w/helical focuser
I first wanted to see how it functioned at the native focal length (2032 mm). I did this a couple weeks ago and didn't notice any issues so I didn't capture any images to use for comparison. But last light I installed the Celestron 0.7X focal reducer and the results were dismaying. For starters, I was utterly unable to get anything close to round stars in the guide camera. The helical focuser allows for very fine adjustments, but the stars vary from upside-down horseshoes to vertical bananas to diagonal bananas. This is the absolute best I could manage: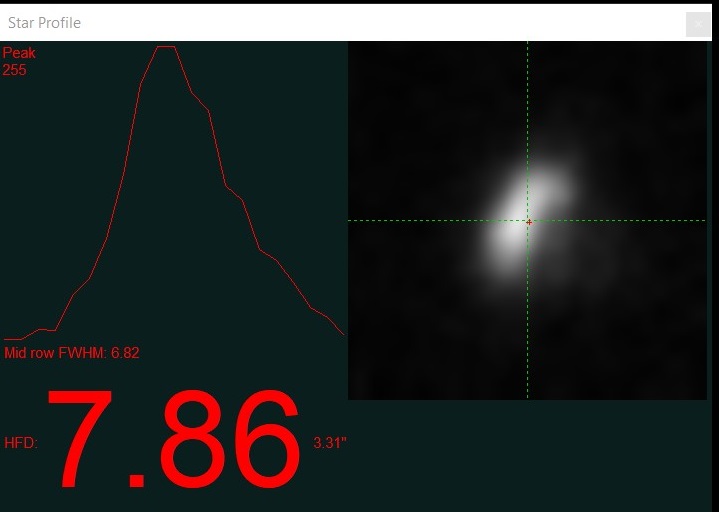 Needless to say, PHD2 fails to calibrate properly and guiding is deplorable since the center of mass for the guide stars is virtually impossible to find. When I ran tests a couple weeks ago without the focal reducer, I don't remember having this problem. If the skies are clear again tonight, I'll try without the FR and see how it looks.
But I know a lot of people are using the EdgeHD 8 with the Celestron FR and an OAG, so I'm wondering if there is some trick I'm missing to get this working. I really don't want to have to use a separate guide scope if I can avoid it. Any advice would be greatly appreciated.
Edited by Domer, 22 September 2022 - 11:30 AM.