It's been a dismal month for planetary imaging in Seattle. While we've had a good number of clear nights, seeing has been consistently poor. I had one good Jupiter image on September 1 (previously posted), another below average image the day after, and then this. I sat on the stacked images for this animation until yesterday, and I was only motivated to finish processing when another week of poor seeing made me think that this could be the best of what I get from now on.
This is the end of an Io occultation. Seeing was fairly average until dropping off halfway through the 10 minute capture period. Io becomes dimmer in the images with poorer seeing. To meet file size requirements, I had to scale to 90% and reduce the quality of the GIF (lower dither %, drop to 128 colours). There's a noticeable graininess, especially with Io in the 2x inset, but even with best quality and 100% scale I couldn't fix that.
Each of the 14 animation frames was created by stacking data from 40 s of the capture period (35% of 10 000 frames each).
UT 09:05 to UT 09:14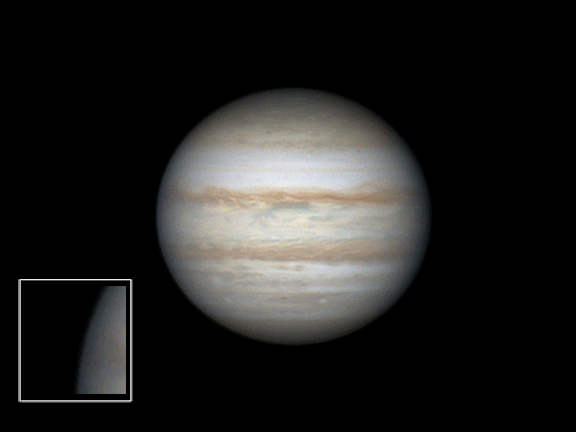 Nexstar Evolution 9.25 with 2x Barlow and ADC. ASI224MC camera.