I've been playing around with a small lightweight ultra portable rig for for both AP and quick EAA sessions. The idea being that when an opportunity arises for some shooting unexpectedly, it's ready to go. I have levelled pucks screwed to the patio where the tripod goes so no levelling needed. Just plonk the tripod down and start polar alignment.
The gear I am using was all chosen to be very lightwieght as I am partially disabled.
The inspiration for this came from Cuiv the Lazy Geek and Andrea Minoia from Youtube.
The rig consists of
Skywatcher Evoguide 50ED Main scope with field flattener
Skywatcher AZ GTI mount on Skywatcher tripod
ZWO Asi585MC main camera
Astro Essentials 128mm guidescope
ZWO Asi120Mini guide camera
ZWO AsiAir Plus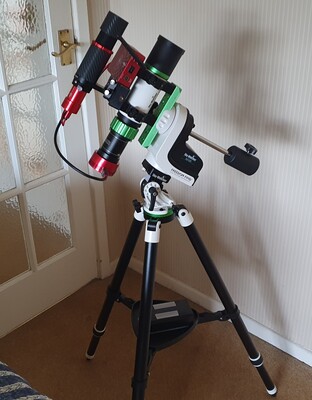 The rig is very light and easy to use. I had just about given up on being able to do any kind of astronomy as my 150mm Newtonian scope and mount had simply become too heavy and difficult for me to use.
Just thought this might be of some use or inspiration for anyone who struggles with moving heavy gear around. It's all very well having the latest mega solid tripods and mounts but if you cant use them then what's the point?
Accepting your limitations and tailoring your gear accordingly is actually quite liberating. I have found that instead of worrying about the next piece of gear (upgrade-itis) I now simply enjoy getting what I can from a very easy to use system.