Reducers, flatteners, reducer / flattener combos, and edge correctors all require a specific "back focus" distance between the imaging sensor and the adapter. Within that back focus distance is placed needed accessories such as a filter wheel / filter drawer, off-axis-guider (OAG), and perhaps an atmospheric dispersion corrector (ADC) for planetary work -- plus any required adapters to connect these together and to the scope and camera.
In this week's blog, we investigate setting up the correct back focus using a popular brand of astro camera and our Imaging System accessories.
Read and share this blog using the shortened link: Watch Your Back Focus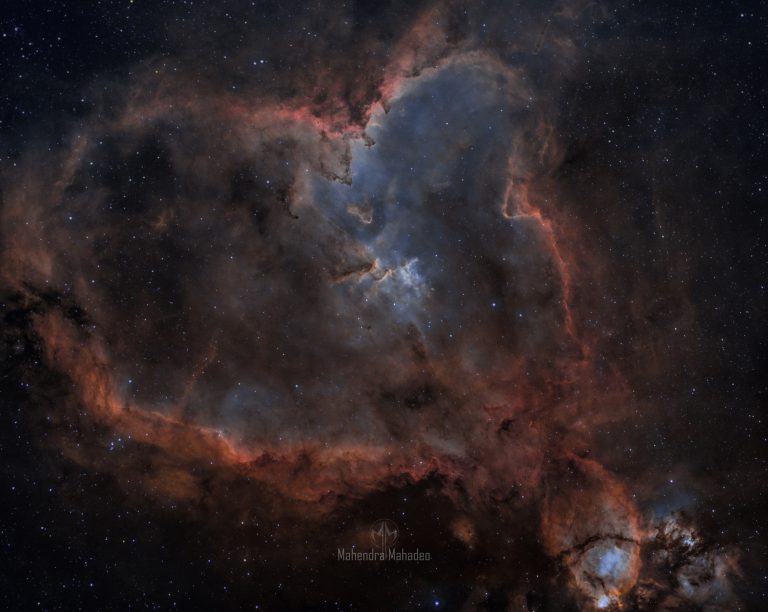 The Heart Nebula by Tele Vue engineer and Instagram user Mahendra Mahadeo. All rights reserved. Used by permission. "Located in the Constellation of Cassiopeia, the Heart Nebula is a very interesting summer target with bright areas of ionized hydrogen and dark dust lanes. This is my second time capturing this nebula but the first time I've done it with a monochrome Camera." Tele Vue-NP101is APO refractor with prototype Tele Vue Imaging System 0.8x reducer / flattener, and Atik Horizon camera on Skywatcher EQ6-R Pro mount. Exposures through Astronomik 2″ filters: Hα 43x5min and OIII 47x5min for a total of 7.5-hrs.
Edited by Stars4jon, 23 September 2022 - 12:46 PM.