Hi,
I've been using AutoStakkert since around the time Emil originally released it. And during that time, I've been ignoring the numbers in the top left of the display panel: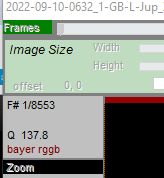 I saw someone mention (sorry, I forget who, now) the other day he was seeing quality values in six digits (like, over 100,000). I rarely see anything more than 3 digits (like the 137 in this example). And the data that produced this 137 was perfectly good, definitely some of my better OSC capture data.
Does anybody know the meaning of this "Q:" value and the math underlying it?
Thanks,
Grant
P.S. to other mods - since this is so specific to planetary imaging, I'd like it left here, please.