EvoZeroHQ, the perfect companion for itinerant astrophotography nights (and more).
Compact, light and performing, the Evo Zero HQ is one of the latest products from Avalon Instruments, and thanks to its unique properties has become my inseparable companion for astrophotography nights. Based on the exclusive Avalon Belt Drive System, it prevents backlash and spikes and it is an alternative to the typical harmonic mount.
It can be used without counterweights with setup up to 6kg, but they are necessary for heavier weights, up to the 13 kg allowed.
It's made from a single block of aluminum which makes it very robust and light. The compact size is perfect for traveling and for wide-field photography with small apochromatic telescopes, but it can handle a C8 easily.

Those are the specs from the Avalons's website
Type: Equatorial/Alt Az mount
Payload Capability: 13 Kg (no counterweights required up to 6kg)
Weight: 4,6 Kg
Overall Dimensions: 28 x 21 x 11 cm
Latitude range available: From 0° to 90°
RA/DEC motors: HQ (High Quality) 400 stepper motors
Transmission system: All belts drive system based on four stages reducer.
All the movements are on roller bearings. No maintenance and no backlash system.
Pulleys made with special polymer fiberglass charged and high precision toothed belts.
Construction Material: Anodized aluminum, worked out from single blocks with high precision 5 axis CNC machines
GOTO system: StarGo Wi-Fi version
Telescope plate: Vixen style, single knob with 2 tightening points

Everything fits inside the Avalon bag with dimensions of 52x24x32 (cm) and a total weight of only 13.2kg.
I chose this mount with several optional accessories that I think are highly useful (polar scope and T-pod 70 tripod, also by Avalon). The T-Pod70 tripod is solid, light - only 3kg - and able to hold payload up to 40 Kg and it has its own compartment inside the bag, in order to transport everything in maximum safety.
The tight dimensions and low weight, as well as the comfortable handles and shoulder strap, ease the transport and it fits even in the small trunk of my car.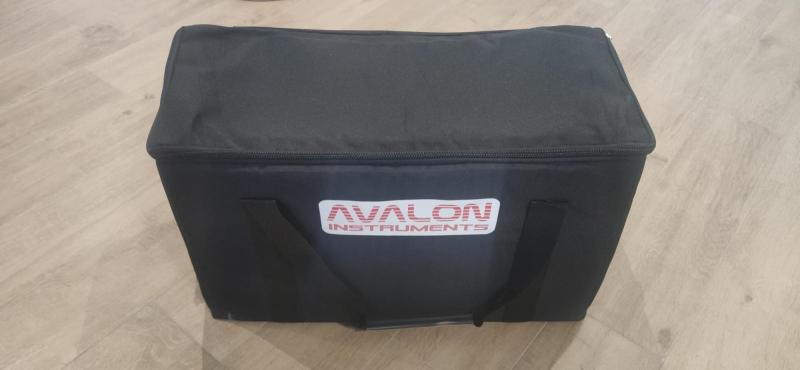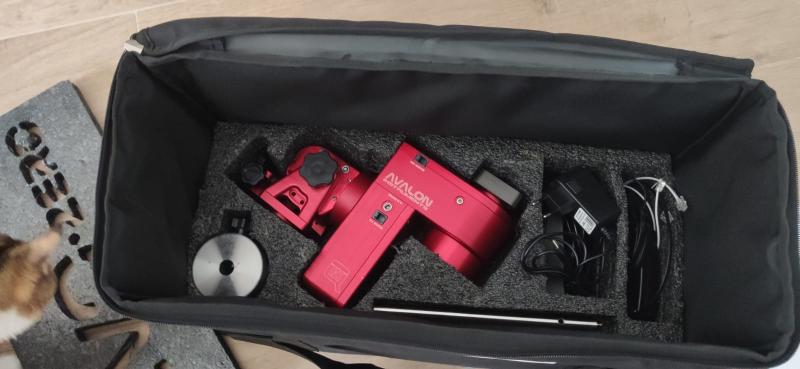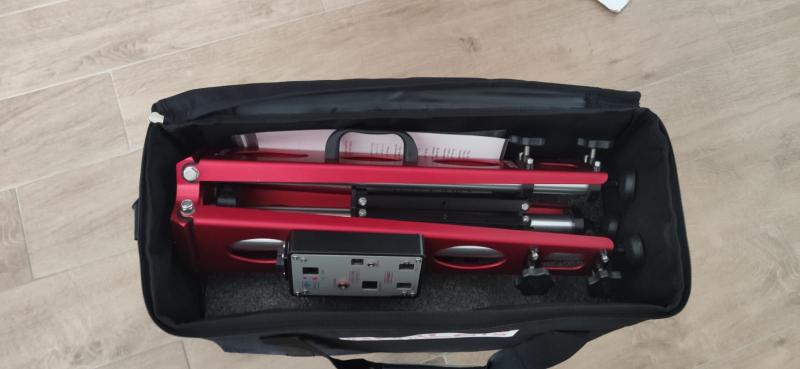 This is the detailed list of the components:
1: T-POD 70 It has a base height of 52cm and reaches 78cm when the legs are extended.
It is connected to the mount by the handy central screw, and thanks to its design it can also house the most common harmonic mounts.
2: Star Go Wifi module To completely control the mount, even via WiFi. It is possible to connect the mount to Windows or OS X systems by the USB port, and to use the main astronomical software such as Phd2 or Carte du ciel with the ASCOM platform.
3: Shaft + 3 kg counterweight
4: EvoZeroHQ mount
5: Keypad to control manually the mount (movement, speed adjustment and electronic focuser if any).
6: usb connection cable to connect the mount to the PC
7: Power supply
8: Keypad connection cable
9: Brake Safety System's power supply
10: Connection cables for Ar and Dec motors
Edited by AstroScudiero, 24 October 2022 - 04:50 PM.