NGC 55 is a barred spiral galaxy in Sculptor. Also known as Caldwell 72, the Cigar Galaxy, the other Whale Galaxy, or "that lumpy galaxy in Sculptor", it doesn't seem to be a popular target. With NGC 300 and NGC 253 nearby, it's not hard to see why it's overlooked.
Is it even part of the Sculptor group? Researchers aren't quite sure, with measurements suggesting it may lie in the foreground.
Despite its general lumpy, uneven appearance, the galaxy has an abundance of Ha regions, which I've used to liven up its appearance.
Data was captured during gaps in the incessant rain and clouds we've had here in Australia this Spring. As is invariably the case when there's such a short window of clear weather, seeing ranged from below-par to abysmal, making processing more challenging than usual.
OSC data, enhanced with dual-band data using an Antlia ALP-T filter. Imaged with a Bintel/GSO 200mm f/5 Newtonian and a QHY163c Camera on an EQ6-R.
OSC: 54x300s (4.5h).
Narrowband: 30x300s (2.5h).
Processed in Siril and Affinity (with addons from Russell Croman and James Ritson).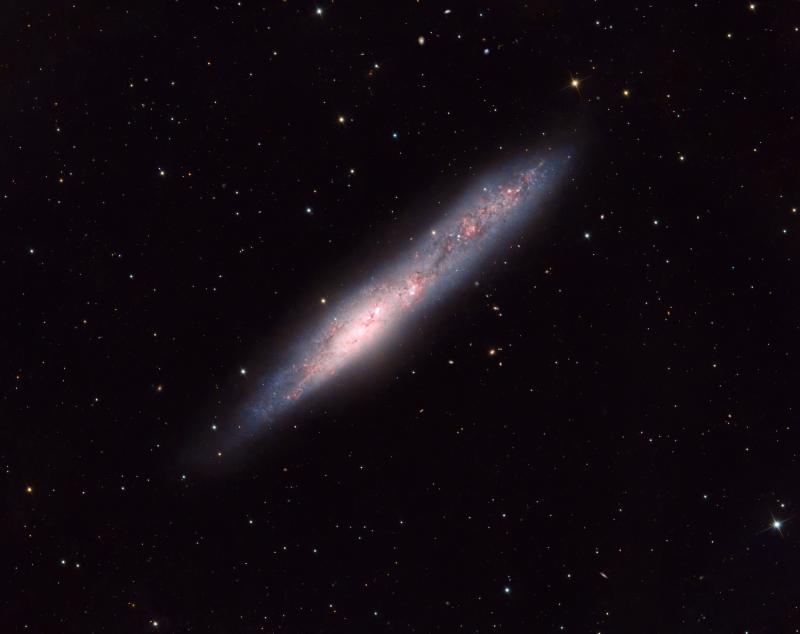 Edited by AaronH, 29 November 2022 - 05:55 PM.