I worked fairly hard (it was fun though) to try and find objects for this months challenge that weren't in any other December challenge. Surprisingly, I think there were a few interesting ones not picked already... Other than that, there is no rhyme or reason to my list. I looked in various books that I have and went through my EAA history and found quite a few objects that I either enjoyed observing myself or ones that I would like to observe. I whittled that list down to the 14 objects here - sorted by best viewing time for my location.
My hope is that you find them interesting as targets for capture and as objects deserving of further study - should you chose to brave the elements this month and take my challenge.
M15: For those with Sue French's Deep-Sky Wonders book, this one appears on p. 265 in the article The Winged Horse. Webb writes in Celestial Objects for Common Telescopes "With 9-in spec [Buffham] finds a dark patch near the middle with 2 faint dark 'lanes'...like those in M13". O'Meara writes in his The Messier Objects that he was not able to see this, but my capture from last December shows all kinds of star chains and dark spots - it's hard to tell which one Buffham meant...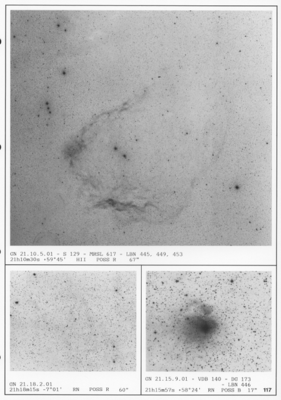 Sh 2-129/OU4: I have no idea how this one will show up. It is listed in the Atlas of Galactic Nebulae (AGN) as GN 21.10.5, and the atlas provides a POSS R image that shows the H-alpha bits, but OU4 (an OIII nebula) is invisible (it was discovered in 2011). Some information can be found here: AstroWorldCreations: Sh2-129 - Flying Bat and Squid Nebula. Definitely the challenge object for the month.
NGC7640: In Deep-Sky Wonders, this object appears on p. 270 in the article Frederick's Glory. There also is a sketch in interstellarum Deep-Sky Guide (iDSG) for chart 6 of the iDSA.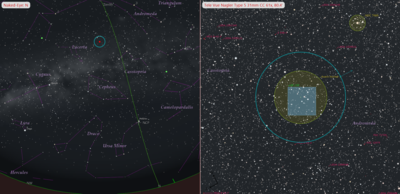 LBN534/vdB158/Aveni-Hunter: In Deep-Sky Wonders, these objects appear on p. 268 in the same article on Frederick's Glory. The AGN lists the reflection part (vdB158) as GN 23.35.4.
NGC7793: In Deep-Sky Wonders, this object appears on p. 277 in the article Sculpting at the South Galactic Pole. It's also in O'Meara's Hidden Treasures and Southern Gems. I've never seen this one.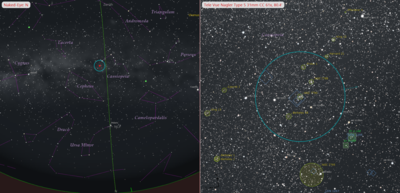 NGC7790/NGC7788: These are the two brightest members of Open Cluster Alley. They should all fit within a single FOV, or they can be seen individually. I've written about them a couple times here on CN and Sue wrote about them on p. 281 of Deep-Sky Wonders in an article called Unsung Star Clusters. O'Meara writes about a couple of these clusters in his The Secret Deep (object 109). While looking for info on the nearby SNR Abell 85, I found this article by S&T's Bob King: Cassiopeia Cornucopia — Pretty Little Clusters all in a Row.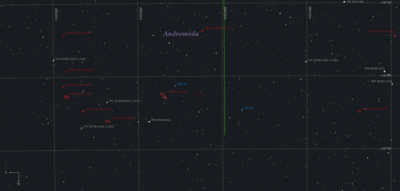 G1 (Mayall II)/G2 (Mayall III): I have no idea how these will work as EAA targets. I'm hoping they will show up as more than just a faint star shape, but even so - these are part of the M31 system! I've found G1 visually with my 14" Dob, but was unaware that G2 was also nearby. There are a couple faint galaxies in the neighborhood as well.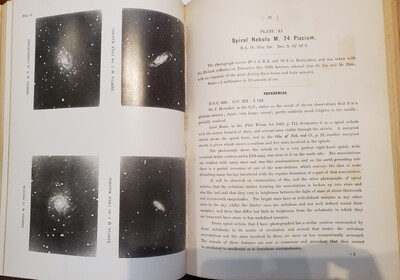 M74: Deep-Sky Wonders p. 292 and iDSG chart 51. Isaac Roberts captured this galaxy on December 9th, 1893 shown here from his book Photographs of Stars, Star Clusters, and Nebulae, Volume II. The state of our knowledge of the spiral nebula was at the very beginning of understanding. It's interesting to read Roberts thoughts on the imbedded stars in the nebula (there was no hint that these were foreground stars).
NGC680/NGC678/IC167: These were in the Astronomical League's 2 in the View project, and that's where I first learned of them. They were also Galaxy of the Month in the Webb Societies Deep-Sky Observer for December.
NGC935/IC1801 (Arp 276): Alvin Huey's Observing the Arp Peculiar Galaxies p. 163 and The Arp Atlas of Peculiar Galaxies by Kanipe and Webb has them on p. 162.
NGC1499 (The California Nebula): For larger fields or for details in smaller fields. I don't believe I've seen The California Nebula in any EAA challenges.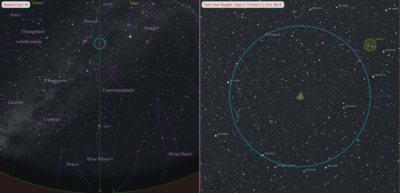 NGC1491: I found this one mentioned in Steve Coe's Nebulae and How to Observe Them p. 54. I've never seen it, but it just looks interesting.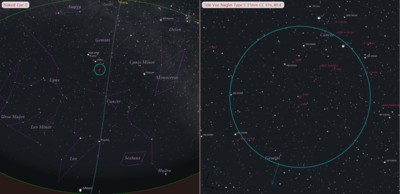 NGC2487: Another Webb Society Galaxy of the Month for December.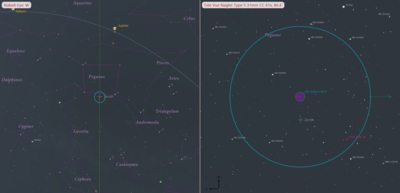 Jones 1 (Jn 1): I found this one mentioned in Martin Griffiths Planetary Nebulae and How to Observe Them. Kent Wallace has a couple observations in his Visual Observations of Planetary Nebulae and an observation (for 16"/18" scopes) and photo are in the NSOG volume 1.
EDIT: Tfer made an excellent suggestion to officially add the Occultation of Mars by the Moon on December 7th. Let's see what our unprocessed EAA powers can show us for this event. A good article on this is in the December issue of Sky & Telescope.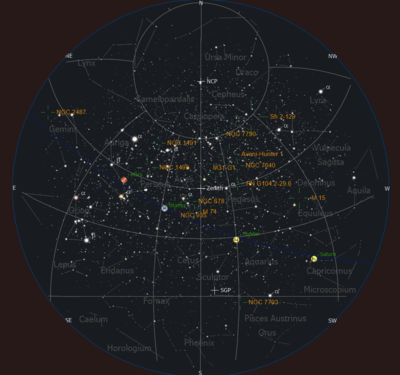 All Sky for December 15th
All charts and data were generated from SkyTools 4 Visual Pro