~
Based on weather forecasts, I thought Tuesday night's observing would be my last for the next week, but by Wednesday afternoon it became apparent that this was not to be the case. Clouds were coming, no question, but I might get some eyepiece-time, beforehand.
The GM-8/Berlebach was still outside, so I mounted my Agema SD 120 near sundown, and hoped for the best.
Went outside at 1830hrs and immediately zeroed in on Saturn. The seeing was a solid good, with all-to-brief seconds of excellent, allowing me to up the magnification to 298x. I then simply adjusted my chair to allow me to park my eyeball at the eyepiece without effort, where I remained for some time, transfixed. This proved to be the best view during the current apparition. Titan and Rhea the only moons seen. I telephoned my neighbor, informing him that this was far better than what he missed the night before, and that a five-minute interruption of his current activity was definitely warranted. He acceded to my solicitation and felt well-rewarded, upon departure.
Noting the increasing clouds approaching, I moved on to Jupiter to discern the cloud formations there, and watched as Io slid behind the gas ball at 2000. No GRS available. alas.
On, now, to the 1st-quarter Moon, where I was able to ramp-up to 418 horsepower at the eyepiece, and love every minute.
By 2030, clouds began to enshroud our satellite, so I quit the field, satisfied.
Stopped for a moment at 1930 to capture the rig with this 30-second exposure. A plane makes its way across the sky, entering from the upper left.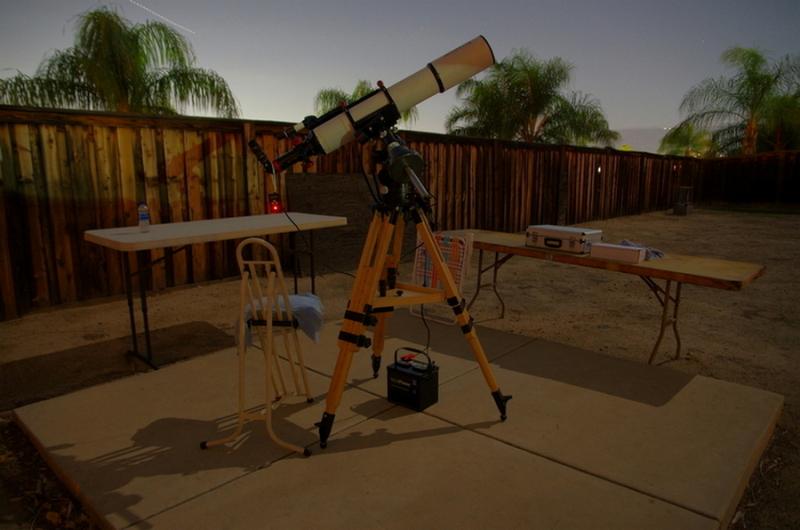 .