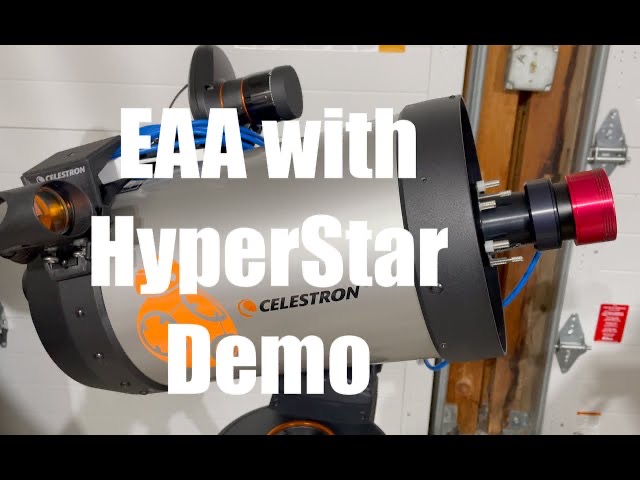 Hi CloudyNights, I recently HyperStar'd my C8 and made a video last night to demo it. Was mainly testing my new Antlia Triband RGB Ultra filter, and I'm liking the results; I have Bortle 6 skies here at home, typical American suburb.
I'd say was a very good (and cold) night of captures over ~75 mins, got the Horsehead, Running Man, M42, M45, M31, Heart nebula, North American nebula, California nebula, and a bit of the triangulum before high clouds came in around midnight.
Most of these are 5-10 second exposures stacked about 20-30 times with dark frames to compensate for the ASI294MC's amp glow. Nothing too fancy.
It's my hope that those with light polluted skies understand there's a very quick and painless way around it with a camera, and optionally a nifty tool like a used HyperStar =). No EQ mounts, not a lot of calibration frames, no hours long exposures — I'm a busy dad of 5 & 7 year olds, husband… much as I envy those on Youtube who can be out for 9 hours working on one object with $11,000 of equipment, that isn't my reality — but this gives me a good taste of astrophotography. Probably my favorite part is that I can carry this whole thing out to my driveway and there's no EQ mount setup… deployment/starsense alignment is less than 3 minutes and tear down is less than 1

. When your wife doesn't do astronomy and isn't going to spend a second in the 25º winter, time counts.
Equipment used:
Celestron 8" Evolution SCT
HyperStar 8
ZWO ASI294MC astronomy camera
Antlia Triband RGB Ultra Filter 2"
ASI Live software
Farpoint Bahtinov mask
Celestron aluminum dew shield
Celestron StarSense auto alignment camera
Celestron SkySync GPS
Pocket warmers
Horsehead at about 5 minutes of stacking.
Collage of 9 objects captured.
Edited by Hexley, 04 December 2022 - 08:24 AM.