This thread is a preliminary comparison of my Esprit 100 (w/ 2019 TSAPORED075, 413mm, f/4.13) vs. Vixen FL55ss (FF+FR, 237mm, f/4.3) on a tightly cropped NGC7822 (greater crop w/ FL55ss). Both have been combined in FORAX, using the same camera (QHY268M) and filters (Astronomik 6nm NB). The FL55ss crop is from the 1st target I shot in 2021 (Question Mark) with FL55ss, the BF has not been totally dialed in and the Vixen rotating adapter was introducing some tilt, but these problems are not of big concern on this small cropped area. The Esprit crop is from a few months ago, and the Esprit is much more dialed in (having used it extensively since 2019).
These images are not finished images and have been processed similarly (though the FL55ss version is lighter). Both have NOT had any color adjustments, but have used Bill Blanshan's star minimization technique. Starnet2 worked much better on the Esprit's color combine than on the FL55ss more undersampled combine, though SN2 worked better on FL55ss HaLum than on the FORAX combine.
Here is the Esprit 100 crop: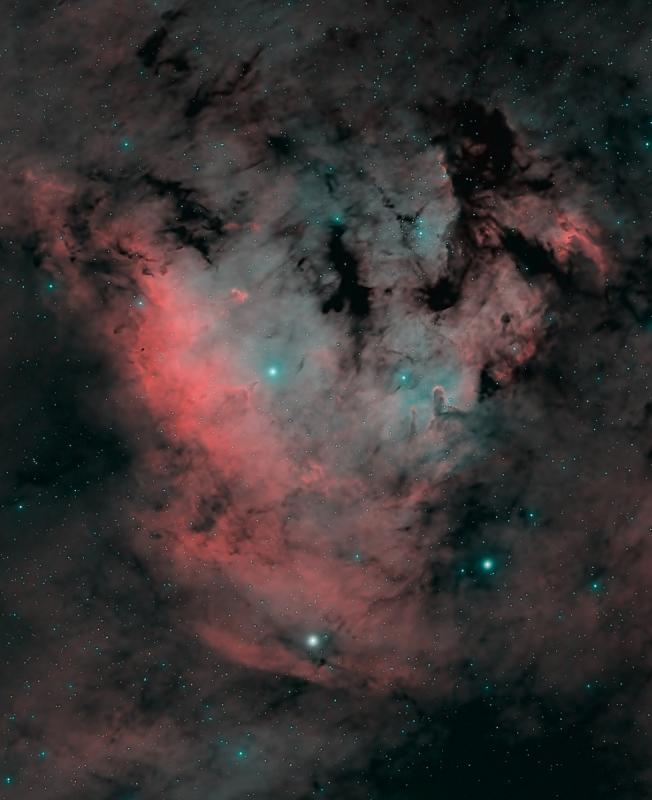 Edited by SilverLitz, 04 December 2022 - 01:19 PM.