I was cleaning my AP archive of any extra data that wasn't necessary recently and deciding what projects to keep the original data for and which would just stay in their current state forever. It was fun to review some of my earlier partial successes. Every night I learned something and I made a collection of really bad, messy images for about 2 months with a star tracker and various camera lenses. Finally I pulled off an almost successful image and then I actually made something that was actually completely in the frame and recognizable as resembling some astrophotography. It wasn't great but I was elated and I had proven to myself that I could do this. So I took some hobby money that I had saved away from selling other hobby things and bought a used goto mount (EQM-35) and a used telescope and flattener (SharpStar 76 EDPH). I practiced setup, polar align, focus etc. during the full moon and was ready for the coming new moon. I got 133 x 60s lights the first night and 211 lights the second night using a cheap UHC filter, an intervalometer, and a broken camera that I repaired and modified in my basement. The mount hummed along and at the end of each night my target was still in view. This was going well. I took flats and biases and embarked on the next adventure of trying to turn a collection of exposures into an image. I was not very good at this part (I'm still not but at least I'm improving). After a bunch of tutorials and countless nights trying different stacking and editing programs I had something that I was very proud of. Please click to expand it.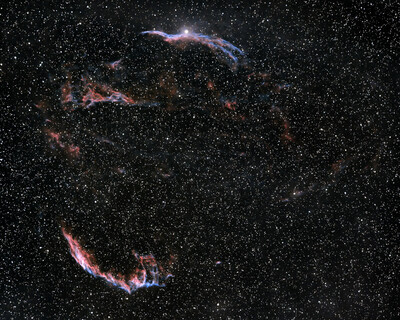 Of course I made a ton of mistakes editing this image. It was only my 2nd try at a complete image. New software, new concepts, no workflow etc. I thought I had bad data. I remember it was so hard to get that image looking like something at all. My next image went much easier. I had the beginnings of a workflow and was starting to wrap my head around things and it turned out much better (but still not quite what I envisioned). Of course with practice comes improvement and I locked into a workflow framework and started experimenting with one aspect at a time and develop my skills. I still thought that this first image was a lost cause but I tried re-editting my second and third images and was surprised with how well they came out. I had new tricks and techniques, I knew the tools at my disposal better, I had a better framework for problem solving etc. So I decided to tackle the beast and re-edit this image. I am still a toddler at this but I was surprised by the result. The Data isn't the best, no guiding, slightly soft focus, no refocuses at all through the night, awful halo's from the filter, etc. But there was a lot more there. I could finally do the image some justice. I am sure I will get much better, after all I am only 8 months into this. I am sure I will shoot the Cygnus Loop again. But for everyone just starting out. AP is actually hard and there are so many skills to learn. But give it some time and you will be amazed by what you produce. Then you will be hooked and your pocket book will never forgive you. I have an IDAS NBZ filter and a new to me EQ6-R to prove it. Don't neglect the processing and editing skills. They make a bigger difference than you might think.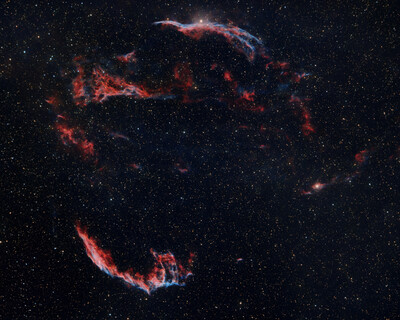 A small piece of advice for beginners. Don't drizzle. It makes your computer cry, takes up 4x more disk space, wastes 4x more time, crushes processing software and adds a huge amount of noise. You'll learn when drizzling can help but more often than not, it's not yet. You can always come back and try it later but really, don't until you know why and have data that can actually benefit from it.
That's my story for now. I was so floored at how much difference processing makes that I had to share. Thanks to this awesome community. I would have failed for sure without you.