Rain cleared this morning and even though we had dew (we made the news with flooded streets) I was able to set up and image with the IR/UV cut filter for the first time.
Used the 11" f/5.7 and 2.5x Powermate with the ZWO 224MC camera. No ADC on Saturn and it shows but it came out better than I expected. For Jupiter I have the sharpened png directly out of AS!2 and a Registax sharpened jpeg from the unsharpened stack for comparison.
First the sharpened stack of Saturn straight from Autostakkert3. It's a stack of 40%.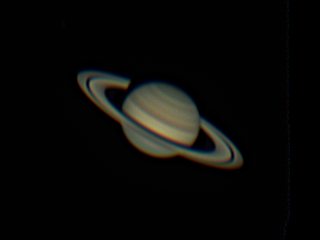 I'll post the Jupiter images in a follow-up post.
Mike
Edited by Mike Spooner, 06 December 2022 - 12:25 AM.