The clouds were finally thinning out last night by 10pm when I set up my 114mm Sams Club newtonian on a recycled Made In Japan GEM with a home Brew 12X RACI and Rigel Quikfinder. I used the Rigel to point in the general area and then searched with the RACI looking for the star pattern near the comet given in the on-line Stellarium. This is what Stellarium shows: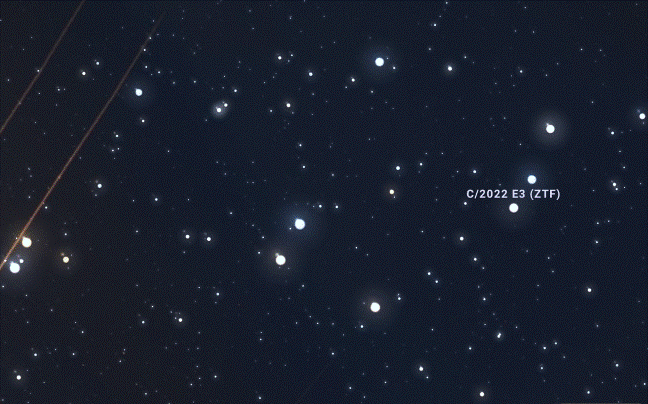 I only saw about the eight brightest stars, including the three pairs left to right with the third pair noticeably dimmer but the pattern kind-of matched stellarium but did not see the comet. I was at about eleven degrees elevation sort-of 25 degrees heading. The transparency and seeing had improved from bad to poor according to the Gettysburg College Observatory web site.
I then went to plan B and put the Rigel on Edasich which was easy to find since it was the way brightest star in the RACI and just barely visible by eyeball in the area. I swung the GEM 5 degrees in RA and found myself back where I had just been. Again, no comet but I positioned the telescope view centered on the two rightmost (as seen from the RACI) stars. Using a 20mm lens, so about 25X, I saw a fuzzy smudge above what i guessed to be star HD 137928. The telescope view was again kind of like this rotated Stellarium view with a lot fewer stars visible: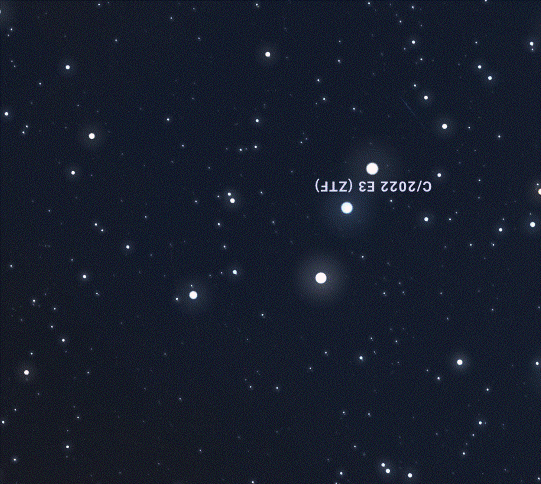 Where the comet should be was not a bright spot but was instead a fuzzy blob a lot dimmer than the stars but about 4 to 6 arc-minutes in diameter. This was a bit disappointing given the posted photos of the comet. But the seeing conditions were lousy, there was some mist and the low elevation put it in the skyglow from the bright lights of the apple sauce cannery in Biglerville, not to mention the sky in that direction is given as Bortle 5. Anyhow, maybe this is why most everybody else chooses to look for the comet in the early AM when it is much higher in the sky.