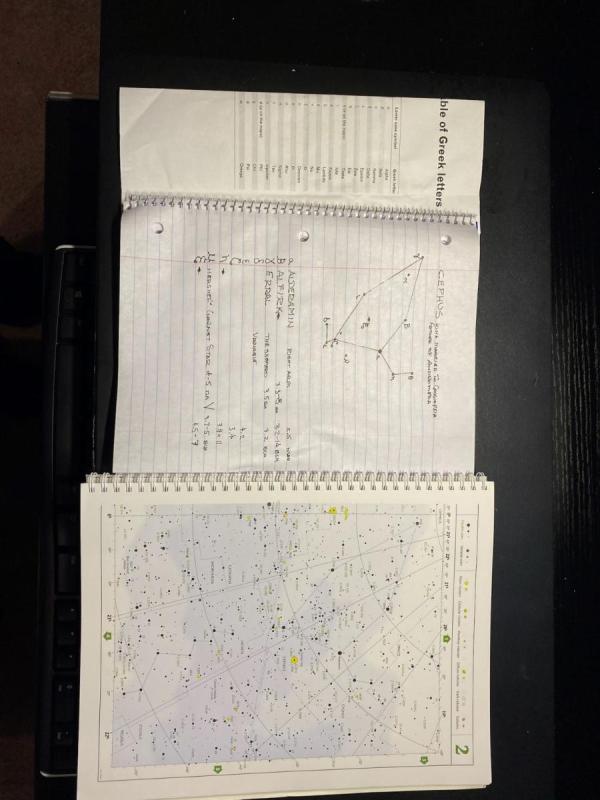 I'm interested in moving up from being just a casual sightseer to a know-it-all. I designed an interesting project for some indoor astronomy. My purpose is to learn the constellations better, more star names, more star magnitudes, and the Greek alphabet.
I started a notebook of constellations as a learning tool and a learning experience.
1. I begin with the constellation name, correct spelling and definition.
2. I draw the constellation (in light pencil first, then ink) while copying it from the atlas.
3. I label the stars in my best Greek penmanship (I am left-handed).
4. I list the stars and their names from the atlas below with pronunciations and meanings when available.
5. I open Burnham's Celestial Handbook and add more information to each star, like the magnitudes, variability, companions.
6. I open Richard H. Allen's "Star Names" and add any new interesting facts I find there. This information is often different from BCH.
7. I draw in and label M objects, but no descriptions; I have enough of those.
I do not have another source of constellation magnitudes like this. So I will bring it into the field and become more familiar with star magnitudes. I only have a rough idea now.
I would recommend this exercise to anyone. It's educational and enjoyable.
I am interested in seeing how many others have notebooks like mine.
Edited by robjme, 24 January 2023 - 04:49 PM.