Hi Folks. Does anyone know where to get a replacement cable (prefer coiled) for the CG5-ASGT Hand Control, since the plastic tab broke off? Let me be clear so were on the same page. The coiled cable is the one coming out from the BOTTOM of the Hand Control and would then go to a PC.
Now from what I have read the cable port is a RS232. I believe the cable is a 4P4C - RJ22. I posted a drawing of the pins and it seems to be a reverse rather than a straight, but maybe someone who knows and or has the same mount and Hand Control can chime in.
Now here is the other issue besides the broken tab...the plastic connector end that inserts into the bottom of the Hand Control is small! The same size that would go into a telephone hand set. HOWEVER the other end of the cable has a larger plastic connector (which goes into my extension Adapter) is similar in size that goes into the base of the telephone!
So the cable has 2 different Plastic Connectors on the same cable.
So what to do...lil help please.
Cheers
Don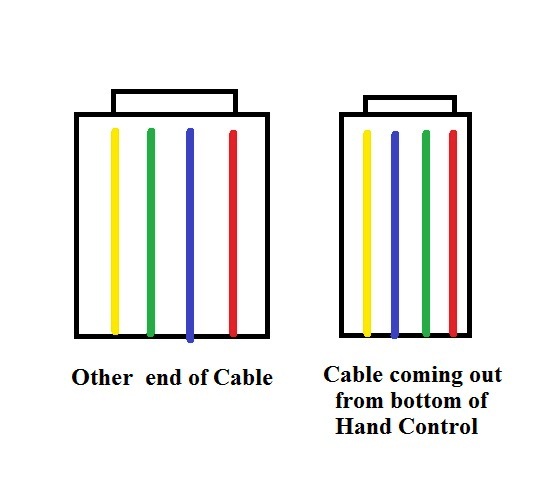 Edited by emflocater, 24 January 2023 - 06:37 PM.