IC 443, the Jellyfish Nebula, is a supernova remnant in Gemini. The Observer's Guide lists it as an elongated 15' X 30' boomerang shaped wisp, but I found that this is only the brightest portion and the very faint, diffuse extended nebula that extends much further. The supernova remnant is roughly ring shaped but it's colliding into a molecular cloud creating a jumbled mix of extremely faint streaming arcs of nebulosity.
Observing this supernova remnant was really enjoyable, my big surprise during a nice night under dark skies for the new moon. In my notes I had only indicated a supernova remnant, Oiii needed. My SkySafari app shows the boomerang shape but none of the extended nebulosity. While I have seen photos of the Jellyfish Nebula before I didn't realize it was IC 443. I wasn't even sure it would be visible, I had no idea what I would actually find.
The first surprise is just how easy this object is to find. It sits in the same field of view as Mag 3.3 Propus in Gemini. With a Lumicon gen 3 Oiii filter in and pointing the scope at Propus the nebula is immediately apparent. The second surprise was how bright and clear the main NE wisp is with an Oiii filter. This curve reminded me in some ways of the Western Veil and the entire supernova remnant and surrounding nebulous streams really seemed like a smaller, fainter Veil Nebula.
The NE wisp showed a fine, smooth arc with a well defined line that made me want to sketch. Once I settled in for extended observation and started using averted vision I realized I could see much more than just the brightest NE arc. With averted vision ill defined streams of nebulosity extended in tendrils to the SW, well past Propus. However these streams were so faint that Propus really interfered with the observation and the view was much better with Propus outside the field of view. This confined the view to the brightest NE portion of the nebula that corresponds to the bell of the jellyfish and its brightest tentacles.
Here's my sketch of the Jellyfish Nebula done at the eyepiece on black paper with white Conte pencil for stars and white pastel applied by brush for the nebula. Stars are highlighted afterwards with a white gel pen.
Thanks for looking!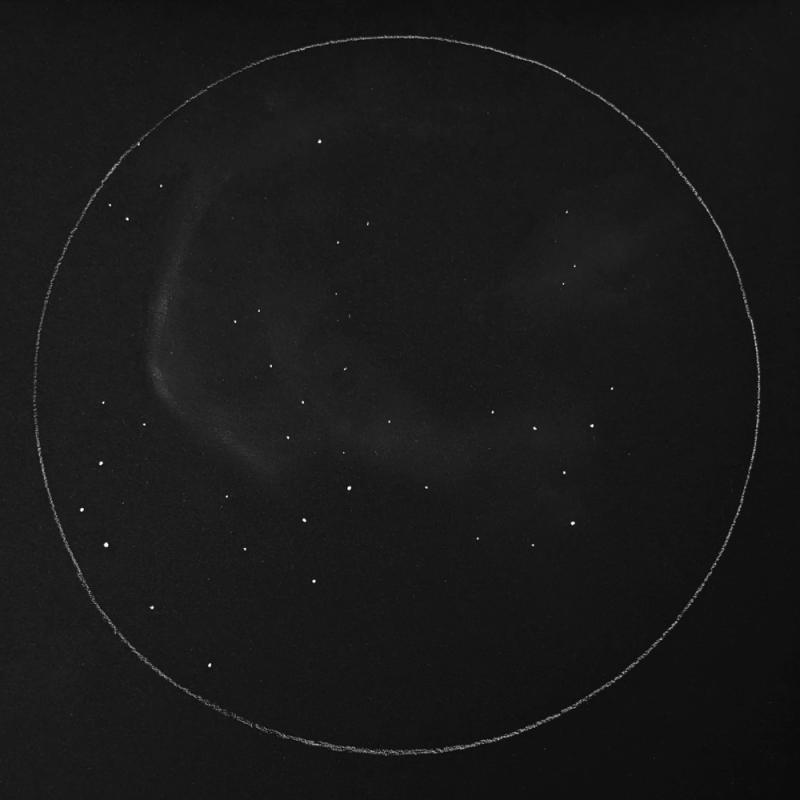 IC 443 (Sh2-248)
x98 magnification
14" Dobstuff ETT coma corrected to f/5.5
Stellarvue Optimus 20mm
Lumicon gen 3 Oiii
1/21/22, Amboy Crater, CA
Seeing 3/5, Transparency 4/5
Edited by Nightowl99, 25 January 2023 - 04:02 AM.