I have had my Vixen 110 for a couple of decades it seems, and it has served me oh so well. No tripod I have ever owned has rivaled its compact size and weight and maintained acceptable stability. It has carried several GEMs including a CG5 ASGT and an LXD-55, an original Polaris, and a Super Polaris. There are more stable mounts of course, but not so light as this and when folded, nothing came close.
Times change though and at some point, you have to accept that it is time to move up. I don't know what has gotten into me, but I got the hankering for a new Apo, so I ordered a Photoline 130 Apo from Germany and I just knew that the HAL-110 was going to be pushed right to its capability because in addition to the Apo, it would have to carry a binoviwer and heavy eyepieces. The most weight I have ever put on it was the C8 on a SP mount and that needed about 10 lb of counterweight, and with that, the tripod was at its practical limit I think. It isn't that the 130mm will weigh that much more because the total weight will likely be around 35 lbs with counterweight 31 lbs for the C8, SP, counterweight and binoviewers, but the inertia moment will be higher due to the longer tube and heavy lenses of the Apo.
One other thing is that for the HAL-110 to work well, the accessory try must be used. Without it, the result even with the C8 would not be very good.
Weight and size are important to me. On my first Az Mount Pro, I had the Tri pier and the Tri pier is rock solid and it does actually fit into a carry on bag, but it is heavy and fiddley due to all of the latches that take several turns each to loosen so that the mount can be folded and the stainless steel legs have to be taken out of their sockets to store into the central tube. None of this is hard, but it is a bit tedious.
I first saw the Avalon tripods a couple of years ago and it checked all of my boxes. It weighs 10 lbs. It has a sturdy spreader so no more need for an accessory tray. It folds up really small! It seems to be much sturdier than the HAL-110, and finally, there are many adapter options for different mounts. When I got stupid and decided to get the Apo, I knew I the tripod I wanted, and the Apo was a good excuse to get it.
The mount was ordered from Starizona. They do not stock them so the order came from Italy and it arrived in about a week from the time the order was placed. It arrived this morning in a box that surprised me because it was so small! Inside was a padded bag and inside that was the super compact Avalon.
In my case, I skipped the iOptrion adapter and utilized the built in 10 x 1.5 mounting hole in the bottom of the hub and this works perfect. The Az Mount Pro mini Pier has a 12mm hole so I used a reducer bushing to allow the use of a 10mm threaded rod. At some point I will probably convert to a hand knob mounted in the semi-pier but for now, I am just using stainless nuts. (as an aside, this is one thing I dislike about the mini-pier. You have to split it open to remove it from the mount I am thinking about mounting an aluminum plate on the inside of the semi pier tapped for 10mm metric so that I can use a knob from the bottom of the mount to quickly detach the pier and mount from the hub. There is at least one engineering problem I have to solve, but for now, I will use it just as it is).
I was worried about the height. It is 90cm (T-Pod 90) or 35" vs the HAL-110 (110cm or 40 inch) but with the legs fully extended it is actually higher than the HAL 110 normal tripod height because I never run with the legs fully extended, though with the refractor, some additional height would probably be desirable and with it assembled, the saddle centerline is 52.5" (133cm). With the extension removed from the telescope so I can use if for binoviewers, I doubt that I even need the saddle this high, so I will probably be able to lower the legs. I will use this with my 6" f/2.8, my Lunt 80, and my C8 as well, so as it sits in this picture, it is much higher than will likely be required.
This is a beautiful tripod (if you like red, and the Assistant Astronomer is not so happy with the color and is particularly concerned about how the orange C8 will clash with it, but I have assured her that the possoms are not easily offended so when the scope is out at night, they won't complain). By the way, I think it is avialable in black as well.
Fedex has the 130mm and hopefully it will arrive in a few days so I am really happy that the mount beat it to the house. I was a bit worried about using the HAL-110 with it. I love the mount, but the leg extension clamps don't have the most grip in the world and I was worried that one might slip and tumble the mount with payload, and that would have been an extremely sad thing to happen.
Here it is though and it is a beauty if the color doesn't offend.
(This tripod and mount will live outside 24/7. During long stretches' of clear days, I pretty much leave it set up on the patio day and night and rarely bring it inside. I do not know what kind of dye was used in the anodizing, but I have no doubt that it will fade, so the good looks will be temporary. I debated doing a Plastidip coating, but these are likewise temporary. I have decided that if it fades and that bothers me badly, which it probably won't, I can always have it power coated, but a tripod is just a tool to me and as long as the looks don't degrade the performance, I am happy. The HAL 110 still function fine, but it shows signs of two decades of exposure to the elements. It has waited patiently for me and never failed to do what it was supposed to do. It is hard to argue with me about the merit of cosmetic beauty over mission and being a Marine Corp vet, I learned that you don't need something to be pretty to get the job done. I can enjoy it while it lasts though. LOL.)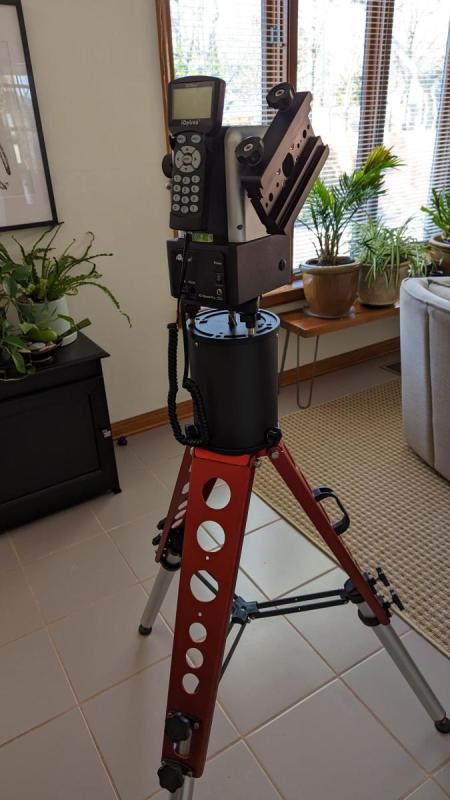 Edited by Eddgie, 27 January 2023 - 10:39 AM.