See how to update your Panther Mount and get the benefits from the latest firmware version
Many Panther Mounts are used with older firmware
When a new firmware version is introduced we send out emails to all registered mount owners. We know there are a large number of mount heads not registered and we know that many of the owners have not done all the updates.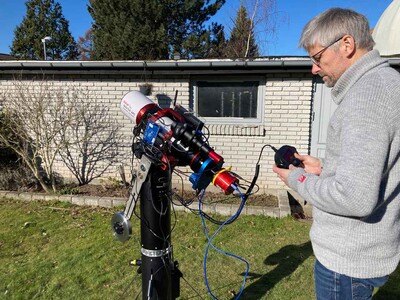 _________________________________
See what you are missing in the latest updates
Here is a quick overview of improvements made in the last firmware updates:
Release 350
Moon added as a goto target
Cable twist protection
Mount start position changed to horizontal - Easier start-up position.
Release 351
Tracking while aligning - makes centring alignment stars much easier.
Park mount via Ascom and automatic load of alignment if mount were parked - better and easier use of the mount in fixed installations
Guiding over Ascom - Improved handling of both slew and pulse guiding - better guide performance
Automatic rewind of the Telescope rOTAtor when a goto for a new target is made - Enables full automatic imaging with the rOTAtor
Release 352
The Smart rewinding of the rOTAtor has been improved - it gives the optimal de-rotation time in all parts of the sky
Release 353Beta (out for testing right now)
Display of available tracking minutes on the rOTAtor before rewinding - a great help when doing long-exposure astrophotography.
Display of how many seconds of exposure can be taken without field rotation being a problem - when doing EAA in Alt-Az mode the display will tell you how many seconds each sub can be
Release 354 - future release
We are working on new features for this coming firmware update.
Check the firmware version of your mount
You can see the firmware version of your mount by opening the SETUP menu and selecting Firmware version.
_________________________________
Register your mount head to get the latest firmware version
When you have registered your mount you will receive an email with the latest firmware version and the app needed to make the update. The updating is done through the PC port on the mount and takes less than 2 minutes.
_________________________________
Until the end of February, you can get the Handpad Emulation App and a side mount dovetail saddle free when you order a TTS-160 Panther Mount Head.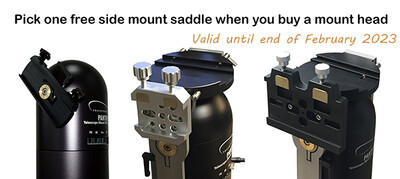 Pick one of the following: TTS160H, TTS160S, TTS160T
_________________________________
Thanks for reading.
Read the latest Alt-Az articles on Telescopemount.org.
Thanks again and clear skies - Torsten from Track The Stars.
_________________________________
Ps. If you have any questions regarding alt-azimuth mount technology or the TTS-160 Panther Telescope Mount feel free to contact us at info@trackthestars.com