I picked up an almost-new Questar 3.5 Duplex at an estate sale last night. According to serial number decoder guides and comments I have found online, its serial number indicates that it was manufactured in 2020 - the first two characters are "20" - and some included parts are still in their original plastic wrap.
It came with a Questar Powerguide (III, I think; it doesn't give any indication of generation that I have seen), see below, Ver. 3.004, 2016, but I have no instructions or other documentation for either that or the telescope yet. [Edit to add: Duh... the '3' in the version number probably indicates Powerguide 3.]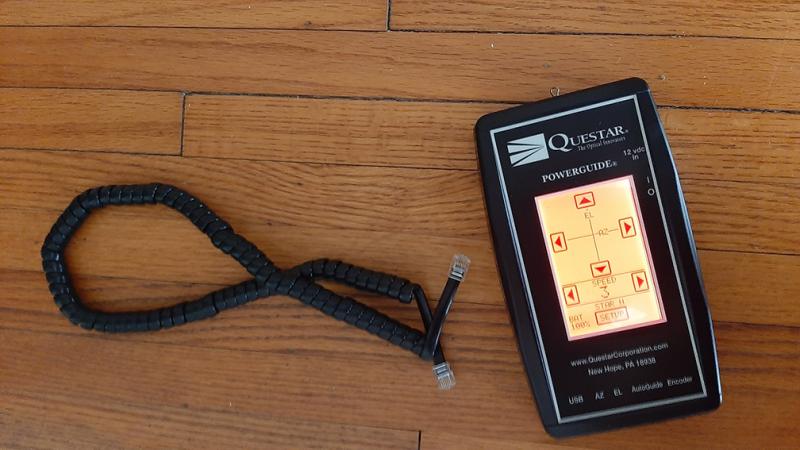 The guy who is liquidating the estate's astro gear for the family, a local amateur astronomer, wants to sell as much of it locally as he practically can to avoid the cost, pitfalls, and hassle of shipping. He brought some (but not all) of the estate's equipment to be sold to our club meeting last night, but left the Questar's documentation and shipping container in the storage unit with the rest of it. He wants to get that material to me this weekend if possible.
I have mostly figured out the mechanical operation of the telescope and mount from decades of reading ads and online sources, including a ca.2004 Instruction Book, but the Powerguide remains a mystery. It has a working 9V battery and powers up, but I am loath to just guess how to use it.
In the event that documentation isn't immediately forthcoming, and so I can check out the drive, does anyone have any information on how the Powerguide is supposed to be connected to the mount? The unit came with a 6p6c "reverse wired" modular cable (6 positions, 6 connections, wired pin 1 to pin 1, 2 to 2, ..., 6 to 6 [yes, that's "reverse"]). The bottom of the Questar's base has a single unlabeled 6p6c modular jack and no other connections. Along its bottom the Powerguide has a USB 'B' jack and modular jacks labeled AZ and EL (6p4c), AutoGuide (6p6c), and Encoder (8p8c), and an unlabeled 6p6c jack on the side. Presumably the cable connects between the two unlabeled jacks and controls the RA drive, but I'm unwilling to just hook it up and see what happens with expensive equipment like this!
At some point I will be interested in checking out the USB connection, maybe adding a Dec drive motor and other goodies, but that can wait. It also has what looks like 5.5 x 2.1 mm connector for external 12V power on the side. Center positive like all the rest of my equipment, I hope.
In the meantime, if anyone can offer sage advice, tips, and known "gotchas", I'd appreciate it.
She is as elegant and the optics are as beautiful and give as sharp an image as I remember from reading and occasionally encountering them in the 1960s and early '70s! Wow! I'm looking forward to bringing it with me the next time we visit our daughter in New Zealand. Battery power instead of fixed-direction 110V 60 Hz AC motor FTW!
Edited by SkipW, 04 February 2023 - 03:13 PM.