I've been using this setup for a while now:
iOptron CEM26 mount
Nikon DSLR camera (D7000 at first, now a D5600)
Orion Apex 102mm f/12.7 Mak-Cass (1300mm focal length) telescope
I like the "reach" of the Mak-Cass, but it's just too much focal length. So, I'm looking to get a shorter focal length refractor with a wider field of view.
I'm keeping the mount and camera for the foreseeable future, so I'm not interested in replacing those.
As this album suggests, I've had some success with my Mak-Cass, but it's been too much work. I'm interested mainly in open/globular clusters, broad-spectrum nebulae, and a few of the brighter galaxies such as M51, M81/82, M104, NGC 7331, etc. I'm not trying for HII emission regions, so I'm leaving the DSLR unmodified. Small planetary nebulae and tiny galaxies are, of course, not on the list of expectations.
Let's say the budget is $500-1000 US, although closer to the lower end is preferable.
Two possibilities that come to mind:
The Astro-Tech AT102ED seems interesting for its focal length (714mm), which is more forgiving than my Mak-Cass yet still has some reach. The price is nice, too. But I'm a little worried about (1) its physical size relative to the CEM26, (2) the fact that it's a doublet and might be prone to star halos, and (3) it would require a flattener, which is more length and possible issues with flex and backfocus.
The Astro-Tech AT80EDT is also interesting because I assume that, it being a triplet, I would not need a flattener. (Is that correct?) However, it's only 480mm focal length.
The SVBONY SV550 80mm triplet looks similar to the AT80EDT.
In terms of the field of view, the astronomy.tools FOV calculator shows the following on Messier 13 3 (one of the smaller globulars):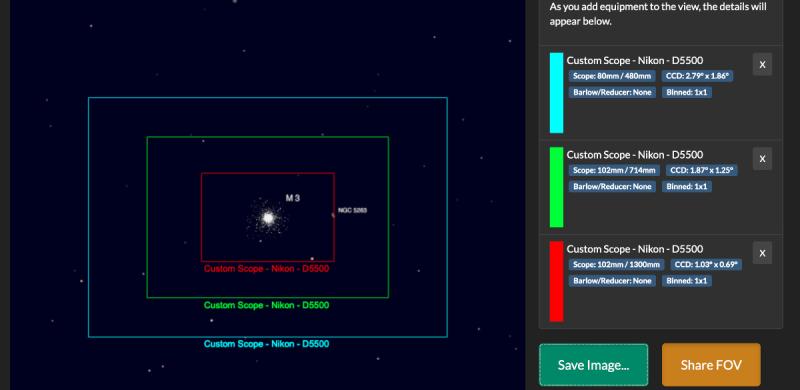 red = current 1300mm f/12.7 (Mak-Cass)
green = 714mm f/7 (i.e., AT102ED)
cyan = 480mm f/6 (i.e., AT80EDT or SV550)
Seeing conditions in my Bortle 7 suburban habitat are not particularly good. So, my Mak-Cass makes for fuzzy stars, as you can see in my album linked above. So I'm not really getting any benefit from the narrow field of view. (And of course the mount won't track well enough anyway.)
In terms of pixels, astronomy.tools CCD suitability calculator shows my current setup to be oversampled, but the other focal lengths seem to be reasonably good in either "OK" or "Poor" seeing.
Would the 80mm triplets still resolve globular clusters to their core using my D5600 (assuming decent seeing)? If such objects are small but still nice and sharp using my D5600, I'd be pleased.
What important considerations have I left out?
Edited by EPinNC, 04 February 2023 - 04:13 PM.