Hello.

So I took my ASI294MM PRO for first light last night when I caught a few hours of clear skies. Decided to try the RED filter first. However the images look somewhat distorted. This night was not intended for actualy imaging but rather an experimental shoot.

This is a stack from 7 x 420sec exposures. As you can see, the image is a little blurred (although I remember focusing well with a bahtinov mask) and the details are not as sharp as I expected from this camera. Obviously the camera is well, there is something with the other instruments.

- First thing I notice are overall bloated stars. I don't know if this is the result of unproper functioning coma corrector, or oversampling from the 2x2 binning I shot these with (in relation to the seeing conditions) and/or lack of exact focus. Or maybe unproper collimation although I used a laser collimator 3 weeks ago and perfectly aligned the mirros. Can the RED filter also cause bloated stars (haven't tried the luminance one yet). Or it could be little from every reason I mentioned. Is there any-way to pin point the problem?

- Second thing I notice are elongated stars, especially in the top-right corner. This effect can be seen in the other corners as well but it's extremely proeminent in the top-right one. Weirdly enough even the stars above the galaxy seem just a little elongated. The camera is attached with its standard 1.25" adapter (17.5mm), T2 extender (21mm), M48-T2 (16.5mm) and then right in the corrector, so it creates a total of 55mm back focus. I just read that Baader Planetarium recommends a 57.5mm backfocus for M48 adapter, could such a small difference of 2.5mm be the cause for the elongated stars? By the pattern of the elongation (towards the somewhat center of the image) it does look that the sensor is too close but can someone confirm that such a small difference can create such bad results? Or is there a different cause?
- Third thing I notice is unusal vignette in the top-left corner. Could this be tilt for the coma corrector or focuser? I know the filter is improbable of creating vignette because it's attached directly to the 1.25" adapter of the camera so it's closest to the sensor it can get. Is there a way to correctly diagnose and adjust tilt?
P.S. The guiding was great, sitting around 0.4-0.5 total RMS outside the dithering intervals and the telescope is in my portable dome so wind or other such factors are out of the question. Also no calibration frames were shot.
Relevant equipment: SkyWatcher 250PDS/1200mm f/4.8; EQ6-R Pro, ZWO ASI294MM Pro, Baader 3 MPCC Coma Corrector, ZWO LRGB filter set.
Can anyone who had these issues guide me towards solving or diminishing them? Thanks a lot.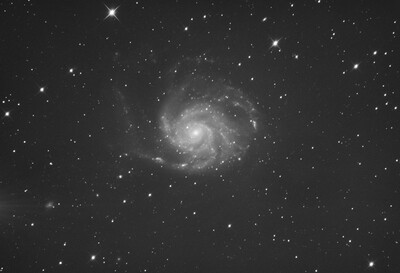 Edited by radu.marinescu, 20 March 2023 - 06:42 AM.