An experiment to see what I can do with a lot of no-no-laden data.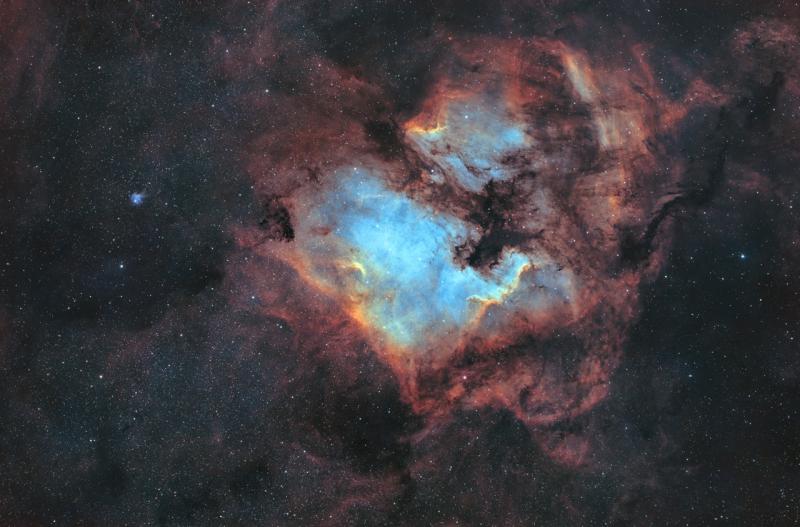 Data is from August 2020—around 17 hours worth—captured across four nights using with a stock Sony Alpha A7R IV with the Radian Triad Ultra filter and the William Optics RedCat 51. Numerous factors involved, here, which are less-than-optimal, if not actively problematic, to say the least. I was freeing up storage space by browsing large folders, noticed I had a mass of unarchived data from this session, and I couldn't help but re-process it to see what might be possible with my current post-processing knowledge. I remembered being pretty happy with it—thinking that it exceeded my expectations—at the time.
My goals were to make the best of it, and to try out some various approaches to creating a tri-color "narrowband" image with channels derived from the color data, in the general spirit of how I usually edit SHO. Before I started using a mono sensor and filters, I was pretty intrigued by some of the approaches people were taking to create colorful images using these narrowband filters at the time.
This worked out better than I expected, and I've ended up with an image I am delighted with. I suspect the RTU, being capable of picking up Hβ, made a helpful contribution to being able to differentiate synthetic channels from the blue and green channels captured, and I also suspect having such a clean, low-noise sensor, with calibration frames and plenty of data, helped to make the most of signal vs noise concerns that one would expect to significantly hobble red channel data with such an aggressive narrowband filter (and maybe this would go quite poorly taking a similar approach on an older, noisy sensor). (Same sensor, here, as in the ASI6200MC, hobbled by the stock IR cut). The red channel was still the weakest channel—noticeably so—but I was able to bring up relatively faint structures and produce a reasonably clean result. I'm also delighted with the color balance I ended up with. A sort of "SHO"-derived color palette which pushes into "HOO" territory with depth and character in the warm to cool tone transitions that I like to aim for.
Technical Details at AstroBin
https://www.astrobin.com/g1uvbg/
Post Processing Notes
https://tinyurl.com/JPNGC7000
Some Screenshots for the Notes Above
https://tinyurl.com/JPNGC7000eg
NGC 7000 (North America Nebula)
IC 5070 (Pelican Nebula)
Edited by James Peirce, 20 March 2023 - 07:45 PM.