Hi,
NGC3718 is a barred spiral galaxy in Ursa Major (distance 57 millions l.y.), well-known for its distorted shape due to its gravitational interaction with nearby NGC3729. The galaxy group Hickson 56 at its feet is much further away (about 400 millions l.y.)
I had a small window of clear weather on Monday night to shoot about 5h30min of luminance in good seeing conditions (1.83" median FWHM after stacking), that I combined with RGB data from last year. This is a rather difficult object from my light-polluted backyard.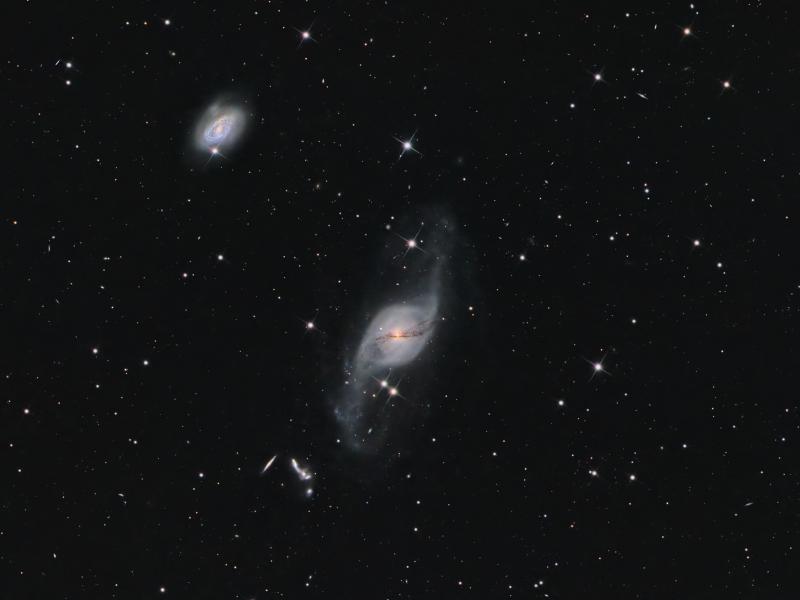 Link to the full-resolution: https://www.webastro...25f0d7472db.jpg
Link to the annotated luminance: https://www.webastro...04e12850d83.jpg
One can see a quasar at z=4.8 which is my new record!
Thanks for looking and clear skies,
Dan
Technical details
200/800 custom Newtonian astrograph with Romano Zen optics and carbon fiber tube
AP900 CP4 mount on Losmandy HD tripod
ASI183mm (0.66"/pix)
TS 2.5" Riccardi-Wynne corrector
ZWO LRGB filters
Guiding : ZWO OAG + ASI120mm mini + AsiairV1
Luminance : 330 *60sec
Chrominance : 80*60sec for R and G filter, 150*60sec for B filter
Conditions : Bortle 7/8 skies in Paris' suburbs (20km from the Eiffel tower), rather good seeing, average transparency
Processing with Pixinsight
Edited by Dan_I, 21 March 2023 - 11:09 AM.