As you may already know, old Nikon camera lenses work extremely well with a Mod-3 or other removable objective NVD's. All you need is a Nikon F to C-Mount adapter like the one below.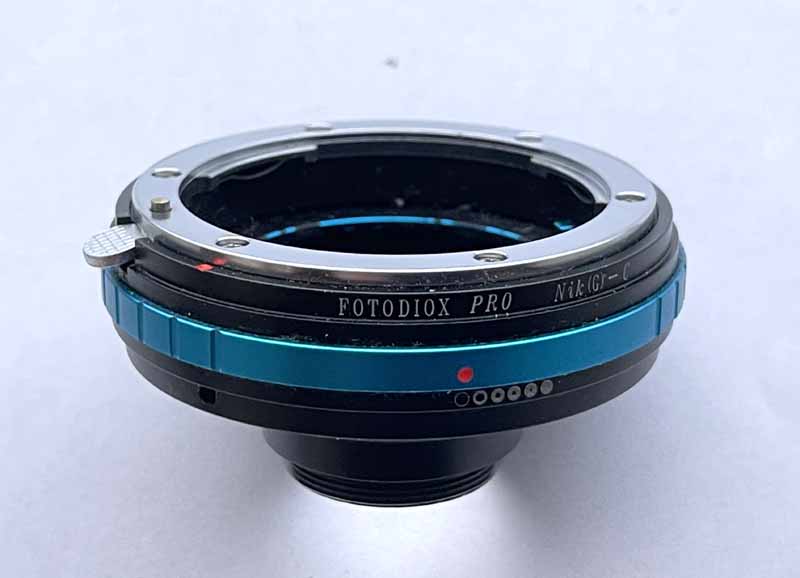 But what about filters? Others have posted methods for mounting either 1.25" or 2" filters between the camera lens and the NVD. You can even mount a 1.25" filter inside the adapter above if you're okay with the filter being a bit distant from the NVD lens mounting surface (flange). Mounting 2" filters is more difficult, often requiring stackable filters with front threading.
Fortunately, there's an easy and reliable method for securely mounting both 1.25" and 2" filter sizes in one compact unit. If you have a favorite Nikon lens, the adapter below might be of interest. No glue and no front filter threads needed. This Dual Filter Adapter (DFA) uses commonly available step rings and an inexpensive Nikon F to M42 (T2) adapter. Below are the standard adapter (left) and DFA (right).
The only caveat is that the Nikon lens must have an aperture ring to use DFA. Newer G-Series lenses don't have aperture rings. So, anything earlier than G-Series is AOK.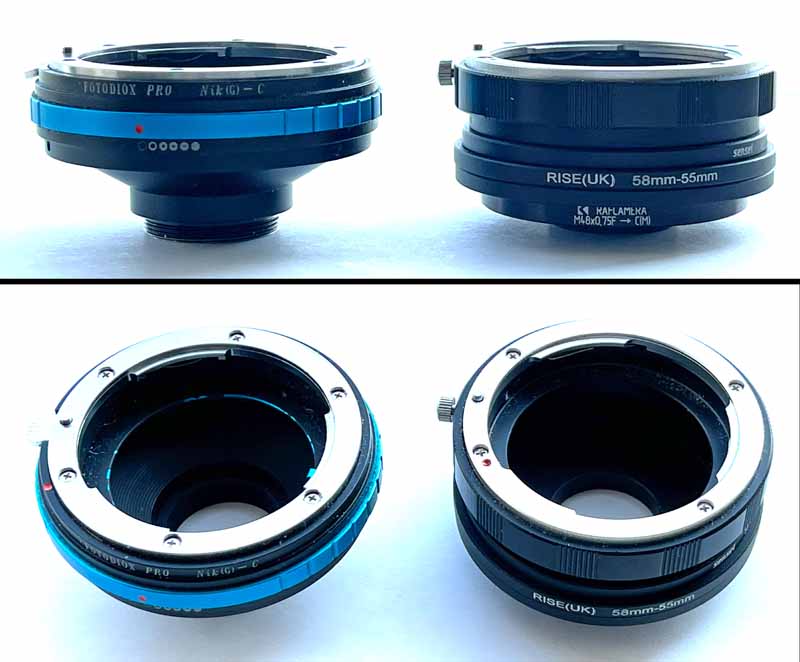 First, a little bit of arithmetic… The "flange focal distance" is the specified distance from the lens mount surface to the focal plane. For Nikon F cameras, this distance is 46.50mm. For C-Mount devices (including the Mod-3), it's 17.53mm (0.69"). This means that our adapter is must have a total optical length of 28.97mm or less (46.50mm minus 17.53mm). Altogether, DFA comes in at 28.50mm. Not bad for government work.
Here's the parts list (with links for non-generic parts, front to rear, female front for all connections):
*1) Nikon F Mount to M42 adapter (see note at the end of this post)
https://www.aliexpre...randl_shipto=US
2) ZWO M48 to M42 flangeless ring adapter. Available from many vendors.
https://agenaastro.c...IRoCYPoQAvD_BwE
3) 52-48mm Step-Down ring. Easy to find generic part.
4) Blue Fireball 2" to 1.25" Filter adapter.
https://agenaastro.c...apter-m-01.html
5) 55-52mm Step-Down ring. Easy to find generic part
6) 58-55mm Step-Down ring. Easy to find generic part.
7) 48-58mm Step-Up ring. Easy to find generic part.
8) C-Mount to 48mm Step-Up ring.
https://rafcamera.co...5f-to-c-mount-m
This is how the rings go together with a 2" filter (montage below). Changing filters is a snap by simply unscrewing the 52mm threaded connection (lower left frame).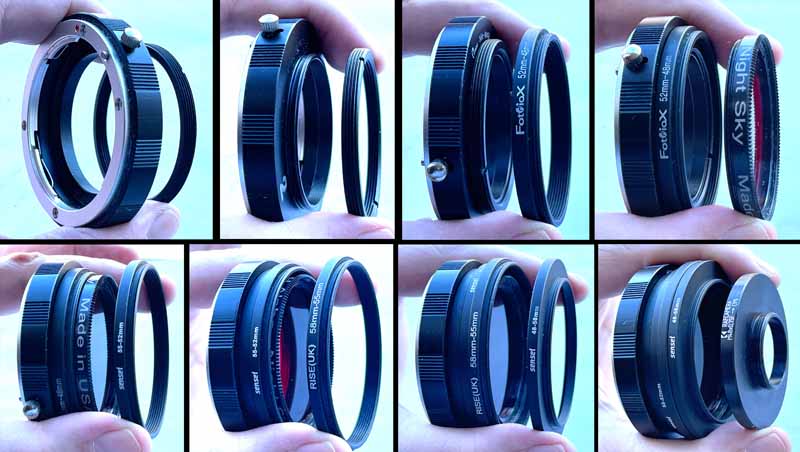 To use a 1.25" filter, insert the 1.25" adapter instead of a 2" filter. The filter then snugs up close to the NVD flange connection for near-zero vignetting.

Here are the 2" and 1.25" filters on a Nikon 180mm f/2.8 lens. After you've been using DFA for awhile, feel free to glue seldom-used threaded connections and quicken filter swap-out.
*An important note about the Nikon F Mount to M42 adapter.
The part we want is made by Pixco. There are other brands, but the M42 male thread usually comes with a 1.0mm thread pitch. This is not what we want. However, the Pixco has the 0.75mm thread pitch (aka T2) that we do want. The Pixco can be identified by its straight linear knurling. The others are usually smooth and have no knurling. Many vendors sell this same Pixco part at AliExpress and eBay. The vendor I linked has the lowest price and free shipping. Pixco part no. Nik-M42, SKU 011224.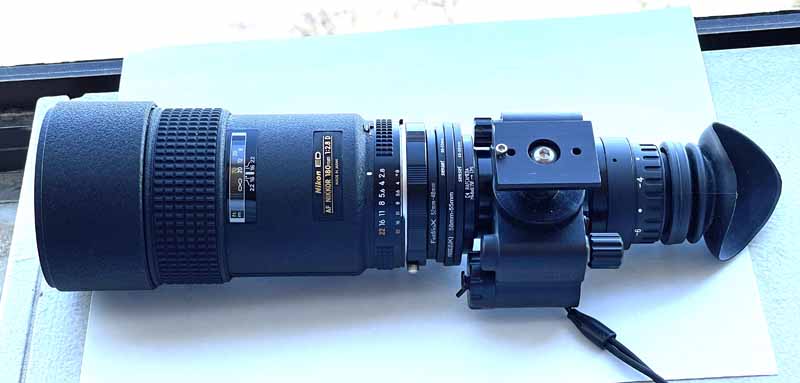 Just one more thing… If you have a Mod-3, the gain knob is slightly higher than the "flange" surface and can interfere with larger lenses and DFA. Many Mod-3 users grind down the knob, but I use a thin 1/32" neoprene washer instead. You'll also note that the RAF ring nicely avoids the battery compartment cap.
Edited by longbond, 21 March 2023 - 02:55 PM.