Imaged for 3 of the last 4 nights... unprecedented here in the PNW.... too bad the moon is coming to intervene just when it's galaxy season. But I'm not complaining!
In any case, here is last night's catch, only got about 2 hours of time on it and 90 minutes of captures due to an equipment hiccup as my Dobsonian decided to spin nearly 360 and tossed everything off the card table and onto the ground. Darn silly firmware does that now and then. I'll need to build a deadman's switch to shut power to the scope when it tries that again. My punishment for imaging with an Observational rig I guess.... it's the little silly things that getchya!
First the cropped CN version: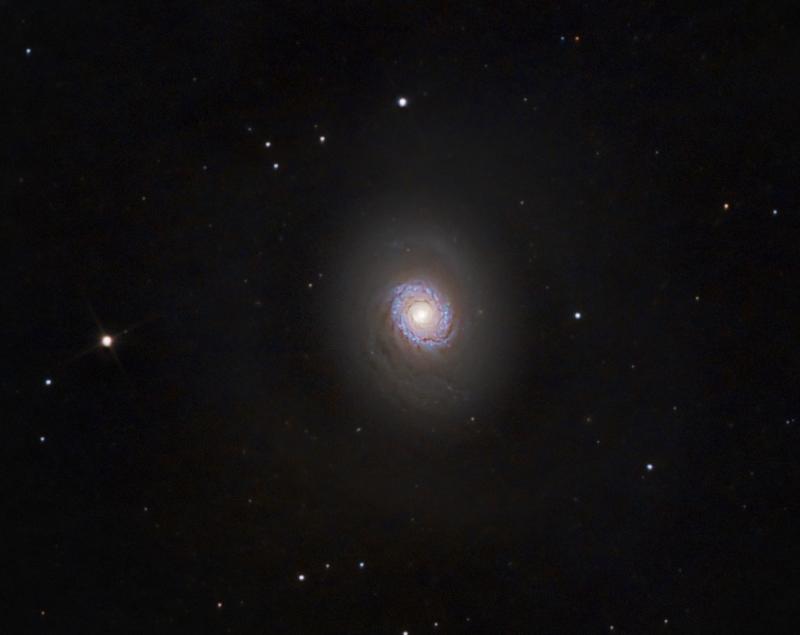 Full Astrobin version:
At first I thought the faint ring outside the galaxy was some new scope/camera anomaly... that hazy barely visible (maybe only in a dark room) ring. Then I learned that no, in fact the galaxy has a faint ring around it. Good to know! I hope to get a few more hours on this with no moon to better tease out that ring.
It was also unusual for how colorful that central ring area was... it was immediately noticeable upon stacking and thought something was amiss as I stretched it... so colorful that middle ring!
Stats:
Scope: Orion XT12G Goto Alt/Az 12" Dobsonian with Baader Mark III coma corrector (F4.9/1500mm)
Capture stats: About 1050 * 6 second exposures, stacked the best 920 or so.
Processing: Stacking: SIRIL, Post processing APP/PI/Affinity Photo + the Xterminators
Sky conditions: Bortle 6/7 with a ~30% moon
Edited by smiller, 26 May 2023 - 06:53 PM.