What was supposed to be my best weekend yet turned into an imaging failure but a great learning experience. Last week I had to redo my collimation, because I'm trying to upgrade my focuser (long story full of grief). After stacking my frames, I realized I didn't get it dialed in. I managed 2 nights on M101, and learned a lot. Both nights, I finally was able to guide! I was thrilled to see a total RMS of .66 for a consistent hour or so with flat horizontal trend lines. Then dew set in and I had to quit guiding. Needless to say there is a dew control setup in my cart. I was still able to manage 120 sec exposures unguided. I think I finally was able to get good calibration frames as my initial stack seemed much better than any of my previous attempts. It was also my first filter attempt, just a CLS wile I'm waiting on a L-Enhance. I don't feel like the CLS provided anything positive to my data.
Saturday morning I stacked my data to see what I had, and APP told me I had a light leak. I have wondered why all my images start with a terrible amount of light.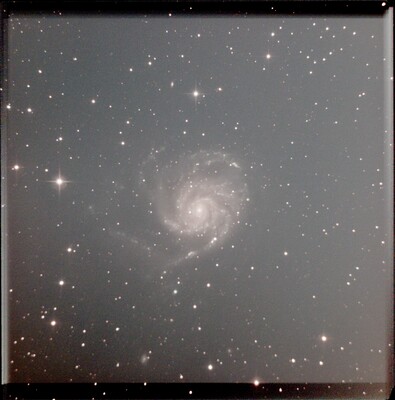 So Saturday I taped every seam around my focuser and camera rings and I wrapped the back of my scope (Newt) with a black trash bag. Saturday night's data was much better. So now I'm looking for a better way to seal the back of the scope.
Since I have pretty bad data I decided to mess with different settings in APP for pre processing and stacking. I also went all in and decided to start post processing in Photoshop. Nothing good to talk about there yet, but I can tell it will be miles ahead of an image only processed in APP.
Finally for the experienced people here. Looking at my second image what is wrong? I have double diffraction spikes, coma, and it looks like my stars are coming in. The only thing different with my setup is that I had collimated, and added a CLS filter mounted in the camera. I suspect it's mostly a collimation issue, but I'm not sure if that's my only problem.