Good day
I am missing a component that came with my JMI NGF-S external focuser. This is a crayford design focuser. I am using it on my Celestron C-11. I need to adapt the 2" eyepiece receptacle on the focuser to a true SCT thread. I tried buying one off of Ebay however the threads are so short I can not attach any SCT components to it. I would like to attach a 6.3 reducer corrector then a 93633-A to that then of course my DSLR camera. No matter what system I image with I am going to need a proper way to attach SCT accessories to my focuser. Any ideas would be appreciated.
Thanks. Ken
My focuser. The adapter I need is the item in the top left of the picture.
This is like the item I need however the thread depth is too short as indicated between the red arrows.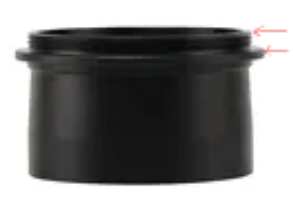 Edited by Tesla220, 30 August 2023 - 10:31 PM.