Hello my fellow refractor loving Cloudy Nighters!
I just wanted to make a thread to show off my new-to-me Astro-Tech AT125EDL (named Wild William for now) and to show a size comparison of it to my AT102EDL (Sweet Caroline).
The EDL line represents, in my opinion, one of the best values for a refractor in the entire hobby. These really are amazing scopes for the price and I haven't really found any online reports of anyone getting a bad example. I wanted a scope that would compliment my AD8 8" f/5.9 Dobsonian and the recommendation I received the most was for a mid focal length 4" refractor. I did a ton of research and ended up deciding on the AT102EDL, which was luckily on sale and I was able to get delivered to my house for under a grand. As soon as the box was opened it was love at first sight! So when the opportunity to purchase a used AT125EDL came up I knew that I had to have it. For those who aren't familiar with this scope line, they're ED doublet refractors sold by the host / owner of Cloudy Nights, Astronomics. The current scopes in the EDL series include a 102mm (4") and 125mm (4.9"), with a 80mm (3.2") that has since been discontinued and a 150mm (5.9") to be released in Q1 2024. These scopes use an FCD100 ED element mated to a lanthanum element, and both come with really nice 2.5" rotatable rack & pinion focusers complete with camera angle adjusters and sliding dew shields. The 102 has an f ratio of 7 (714mm FL) while the 125 is f/7.8 (975mm FL). Astronomics also guarantees the quality of these to a minimum Strehl ratio of 0.95, which is fantastic IMO. From all the testing I've seen preformed on these scopes I really believe that guarantee holds true.
A little backstory:
I bought my 102 back at the end of June this year. My plan was to purchase the scope and a mount for it at the same time, but due to circumstance I was only able to get the scope and would have to wait on the mount. So I received this beautiful scope and was as stoked as I'd ever been in this hobby, but had no way of testing it which turned out to be a real bummer. During my research on the scope, I had run across a few DPAC tests of the 80EDL & 125EDL, but to my knowledge a DPAC test of 102EDL had never been posted. I had read in the 125EDL DPAC thread posted by our amazing CN admin Scott in NC, who'd preformed the DPAC tests on the other EDL scopes, where someone had asked about the quality of the 102 and his response was that he'd like to test one. So since I didn't have a way to give my scope First Light, I reached out to Scott to see if he'd be interested in putting the scope on the testing bench so I'd at least have some idea of it's quality until I could get a mount. Turned out that he lived fairly local (less than an hours drive) and he graciously offered to meetup and put my scope through the paces of the DPAC. This must have been fate or destiny or something, as this meeting turned into a friendship that as really helped get my amateur astronomy journey started down the right path... anyway, the thread to that DPAC test of the 102 can be found here:
https://www.cloudyni...c#entry12857093
Fast forward a few months and as upgrades have been made the opportunity came up to purchase Scott's amazing 125EDL. This was one of those chance deals that I couldn't let myself pass up. The scope had been DPAC tested and Scott has been able to compare the views it provided with other well known scopes in it's class, so I basically knew what I was getting and the quality of scope that was being offered before I got it. I couldn't pass this opportunity up! Here's a link to Scott's thread on the 125's DPAC test, the same thread that gave me the idea to reach out to Scott about testing my 102:
https://www.cloudyni...l#entry12834110
So he once again graciously drove an hour out of his way to bring the scope by so I could check it out, put it on my mount for a test run, and decide if it was truly something that I'd want, which needless to say it most certainly was! So we were able to make a deal yesterday and make it rain.... literally. There wasn't a cloud in the sky until the scope showed up, then we started dodging clouds to get in some white light solar views, then by night there wasn't a star in the sky. My astro club, Echo Ridge Astronomical Society, had a club observing session planned in southern Virginia last night and I got blamed by the majority for the poor weather since I was foolish enough to bring a new scope

Now, back to the size comparison:
Unfortunately excitement over the new scope caused me to forget to take some pics of it while on the mount yesterday, so I don't have any mounted photos to share, but I figured I'd use this rainy weather to take some indoor pics of the 102 & 125 next to each other. This will give anyone who may be thinking of buying one of these scopes or upgrading / downgrading sizes an idea of their relative size to each other... plus I just want to show off my scopes

This was actually the first time I'd ever seen two different size scopes from the same series together. My first thought was "Wow, that's bigger than I thought it'd be!" It's one thing to think about the difference or pull a tape measure out to get an idea vs. actually seeing the two together.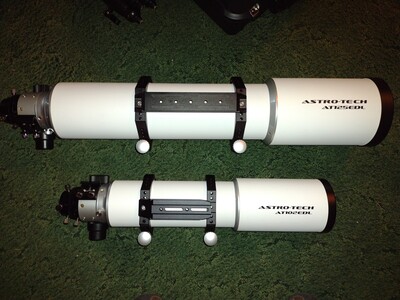 I had thought about running the 125 on my CG5-ASGT (Mounty McMountface, the awesome mount that Scott hooked me up with for my 4") but had seen several CNers using the same scopes on a SkyTee-2. I liked the looks of it so decided to order one from First Light Optics (UK) since others were having good luck with it. I'm not saying that my CG5 wouldn't handle it for visual use, but after seeing the 125 I'm thankful that I went ahead and bought a mount that'll handle a higher payload. I'm also glad that I upgraded the 2 saddles to an ADM Vixen & ADM Losmandy since there's no way I'd trust the small factory Vixen saddle and dovetail with a scope this size. Not saying it wouldn't hold it, just that I really wouldn't personally trust it.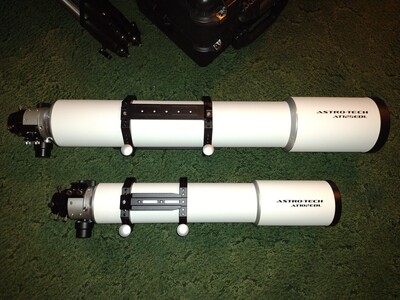 My plan going forward is to use the 125EDL as my primary scope on the side saddle of the SkyTee-2, with my AT70ED (Little Ed) riding on the top saddle. My 102EDL will probably go to a small AltAz mount (M2C or similar) as a grab-n-go and for shorter observing sessions. The CG5 will be used when tracking is needed such as for public outreach, and for my future adventures into the world of EAA.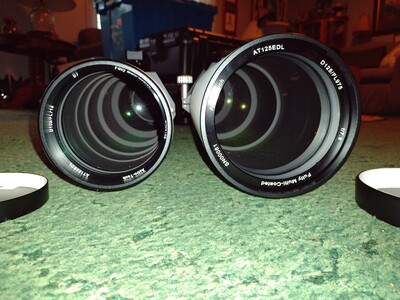 Well thanks for making it to the bottom of this post that turned out waayyy longer than I intended. It was supposed it be a short paragraph or two with a few pics, but once I started typing about my scopes I couldn't stop

I'll blame it on the long night at the club and lack of sleep. A special thanks to Scott in NC for the amazing scope and for all the help he's been, both in-person as well as for everything he does here on Cloudy Nights. That dude is awesome!! So, what does everyone think about these two scopes side-by-side? Anyone surprised by the size difference or was that just me? If you had to pick just one, which would you choose? And what would your preferred mount for one of these be? Looking forward to seeing what others think.
Clear skies my friends!!