Hey all,
I've been doing astrophotography for about 1.5 years, previously with a Star Adventurer, 135mm lens and a DSLR. I've really enjoyed taking the images to see what is out there, and I've learned a quite a bit about stacking and so on, but I've never really committed to finishing anything.
I recently finished piecing together my full setup (thanks to the inhabitants of this forum for their advice, it was very helpful), took some pictures and did some basic processing using Siril and GIMP (basically just extracted the backgrounds, reduced the noise, composited using pixel math for the first time, and stretched).
I'm mostly just looking for some general thoughts for whether I've got the right idea with the processing, as well as opinions on what you would do to boost image quality and crispness. I did a test print on 20 x 24, and while the general image turned out reasonably well I did notice that the colours were noticeably fainter. Do you have any advice on how to process for printing purposes (or for printing on a canvas thing to mount on the wall, for example)? I love to frame/mount my favourite pictures, and I would love to do the same with my astrophotos as well.
There's a whole mess of things to look into, but it'd be cool to have some opinions for which way to look.
This image was taken using the following settings over the course of a couple nights during a new moon:
Ha: 28 x 300s, 120 gain, 270mm
Oiii: see above
Sii: see above
Bias, Flat, Dark Flat and Dark for each set of lights.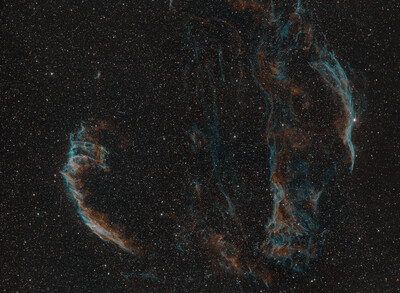 I've read that RGB can be used to image the stars to capture their colours to greater effect, and I also understand the idea behind using an L filter to boost luminosity with R G and B filters, but do you recommend using L with the narrowband image sets to boost their 'effectiveness'? I'm planning my next imaging session, whenever that may be, and while I'm fully intending to try a different target at a different FL it would be easy to set aside some time to take some additional images of the loop.
Let me know your thoughts (also, let me know if it's preferred to use a different way to post images on these forums).
On a side note, if anyone has experience, how have you modified your setups for cold weather (-15 to -30 C)? I've heard about pulling apart the EQ6-R and adding cold weather stuff to avoid freezing and locking up, but I'd also like to know more about caring for other components (telescope, ASIAIR, EFW etc) and things like protecting against condensation when moving equipment back indoors once finished.
Thanks,
Hobi
Edited by Hobi, 30 September 2023 - 01:33 AM.