Hi everyone,
Following my previous imaging on the 19th which was more a test to renew with planetary imaging, here is some more interesting imaging of the Europa Transit over Jupiter.
It was the first time I tried the collimation with MetaGuide. At first, it wouldn't select Vega in the frame.. then after adjusting the camera parameters, I could see the star hot spot and "dancing halo" around. Seeing was probably not great as I had to increase the stacking to 5s and even 7.5s to get a somewhat stable airy disk. The scope was close to collimation but I managed to improve it further. Even though, the red dot was moving around:

FC Settings on ZWO 462MC:
- exposure: 5.8ms
- gain: 302
- each frame: 60s video at 172 fps
1 image out of 323 captured: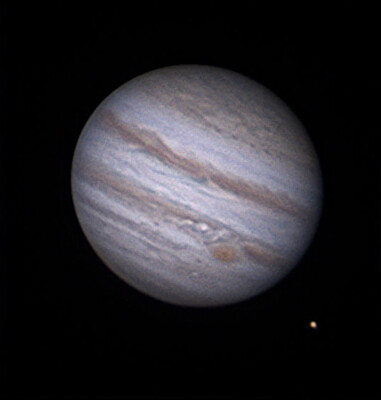 Raw video capture with FC:

Final planetary rotation (AS3!, Registax, PS):

I could probably improve the processing of the video as I was using the same wavelets from start to finish. When the seeing was improving, I feel like I was close to the max resolution of the C8 EdgeHD. Let me know what you think !
Edited by lpalbou, 01 October 2023 - 04:52 PM.