Introduction
I've bought this as a possible integrated, ultra-portable AP kit, so this review is heavily skewed towards that usage. Personally, I have no interest in EAA - I prefer to do full-fledged AP, using all postprocessing tools available, or just put an eyepiece into a telescope at a dark site. The Seestar S50 was delivered to me yesterday, and to my surprise the night was clear until about 2:30 am.
Delivery
The Seestar was sent from China and arrived within 4 days at my doorstep. Logistics were handled by FedEx which gave detaild tracking information and handled all customs formalities - it's a rarety that I don't have to pick up packages from China at the customs office. So, very good on ZWO to provide adequate and correct customs information.
Packaging
The Seestar comes in a cardboard box which contains another suitcase-like box made from styrofoam. The fit to the scope and tripod is tight. Time will tell how sturdy it is, but to me it seems a very safe transport box. I'ld be comfortable even putting it into check-in baggage.
Contents
The box contains the integrated mount-and-telescope, a small carbon tripod, a 1m USB-A to USB-C cable, a solar filter and a quickstart manual. The carbon tripod legs can be used shortened for a height of about 25 cm or extended to about 50 cm. When the telescope is mounted it is sturdy enough to not tip over and very rigid towards bending motions but not quite as resistant towards applied torque. The filter is a foil filter in a plastic ring. I'll describe the telescope in detail in the other sections.
Hardware
Overview
The S50 is a compact, integrated telescope, ALT/AZ goto mount, CMOS OSC camera, AP computer and rechargeable battery. Setup is very quick: Assemble mount/telescope and tripod, power up the Seestar, connect to the inbuilt WIFI, follow instructions to level the tripod and go shoot. It takes literally a couple of minutes.
Battery
I don't know the capacity of the battery, but it can't be more than 80Wh. Due to the small size of the telescope and the uncooled camera, it will power the Seestar for at least the advertised 6h. I didn't have need for the dew heater, though.
Mount
The integrated ALT/AZ mount has some play/backlash in the ALT axis which lead to streaked stars in about 20% of my exposures. DSO gotos are fast and accurate. The object was kept centered during the whole 2.5h run, but I assume it is recentered after each image for platesolving.
Camera
The Seestar S50 comes with an IMX462 OSC sensor. It is a small sensor with small pixels and high QE: The sensor dimensions are 5.6 x 3.2mm, pixel size is 2.9µm and a QE of about 90% at 500nm and about 82% at the h-alpha wavelength. Although the read noise is only 1.1e- at unity gain, the small pixels mean it isn't as low per area as some other chips. As a special feature the bayer matrix becomes basically transparent in the near infrared. This means it is a great chip for solar, (especially h-alpha) or planetary observation and very decent for EAA. For DSOs, a larger sensor and higher full-well capacity would be desirable. In addition, the chip is mounted with severe tilt.
Optics
ZWO advertises the Seestar as a "triplet apochromatic". They provide no information about the design or the glass types used. It is here, unfortunately, that the savings made to meet the price point are the most obvious: The scope shows severe trefoil astigmatism. The CA at the higher end of what one would call "apochromatic" even with the inflationary use in advertising - and from the colors I got on the Gamma Cas nebulae, I would assume that the UV/IR-cut filter included by ZWO cuts the blues quite short. Even with all that, the stars are quite small (1.8 px FWHM). The small chip is illuminated almost 100%, so together with the closed design flats can be skipped - FPN really isn't a concern here, considering the optical and mechanical problems.
Software/Usage
ZWO wants to access a huge amount of private data (including position tracking, contacts, profiling, etc.) so I'ld recommend picking up a cheap smartphone just for this app. ZWO also uses a plethora of open source software while blatantly violating their license.
The app and scope software seem rock solid - I encountered no bugs. The pairing process is straightforward and quick (download the APP, power on the scope, press connect in the APP, press reset button on scope. You start off with a welcoming screen with four modes (solar, lunar, "stargazing - basically DSO" and landscape). The moon wasn't up when I was, so I skipped that. I'll certainlly be testing the landscape mode for birding.
Solar
I only briefly tested the solar mode. During my initial trial it had problems finding the sun - but then it was only 10° above the horizon and partailly obscured by clouds. Once centered, it tracked the sun perfectly until sunset.
Stargazing (DSO)
The interface certainly is geared towards EAA: You pick an object, the telescope slews to it and centers via platesolving. The standard catalogs are included (Messier, NGC, IC, Sharpless) and you can pick your coordinates as well as slew the scope manually. It then shows an autostretched, debayered image every 10s. Selecting the record button, it will autostack these images in the liveview. The stacked images are saved to your phone when you stop live stacking. In the options, you can enable the S50 to also save every sub as a FITS-file. The recording will continue even when the smartphone is disconnected from the Seestar. position. Image saving is associated with a significant overhead - 2.5h of observing time put out 1.5h of subs.
The subs can be transfered to a computer via USB - the S50 shows up as an external disk. It is from these that I produced the Gamma Cas image below. An integrated light pollution filter can also be inserted into the light path - this happens automatically if you select a nebula from the catalog. Autofocus runs quickly (10s) and accurately. There is no sequencing functionality: You're limited to 10s exposures taken with the selected filter and the selected focus position.
Summary
For the price, you get a very nicely integrated package for those that prefer ease of use to image quality: An ALT-AZ mount comparable to a Skywatcher AZ-GTi, a carbon tripod, a 50mm semi-apo, a 1/2.8" uncooled astro camera, a rechargeable battery with 6h battery life and a mount computer. The software is very stable but geared mostly towards EAA currently. I am cautiously confident ZWO will add further features in coming updates, but prefer stability to featuritis. The whole software/hardware integration works very well, setup is easy and quick. The one thing I would wish for is better quality control: Unpinched optics, less tilt in the sensor and tighter gearing would go a long way here - it's really what's holding this setup back from producing great instead of mediocre images.
Postprocessed Image:
Astrobin link:
Aberration inspector (single frame):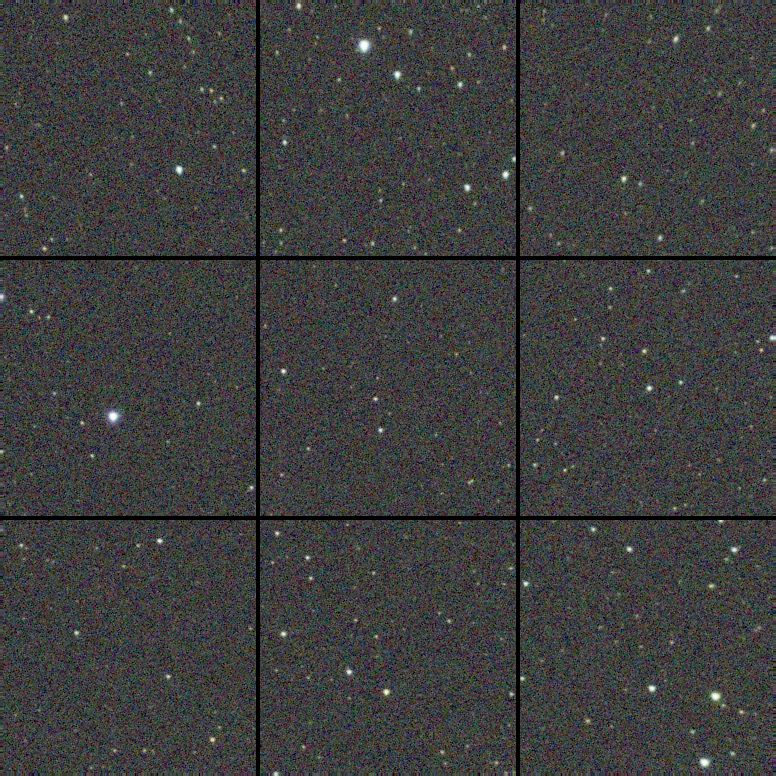 Aberration Inspector (stacked):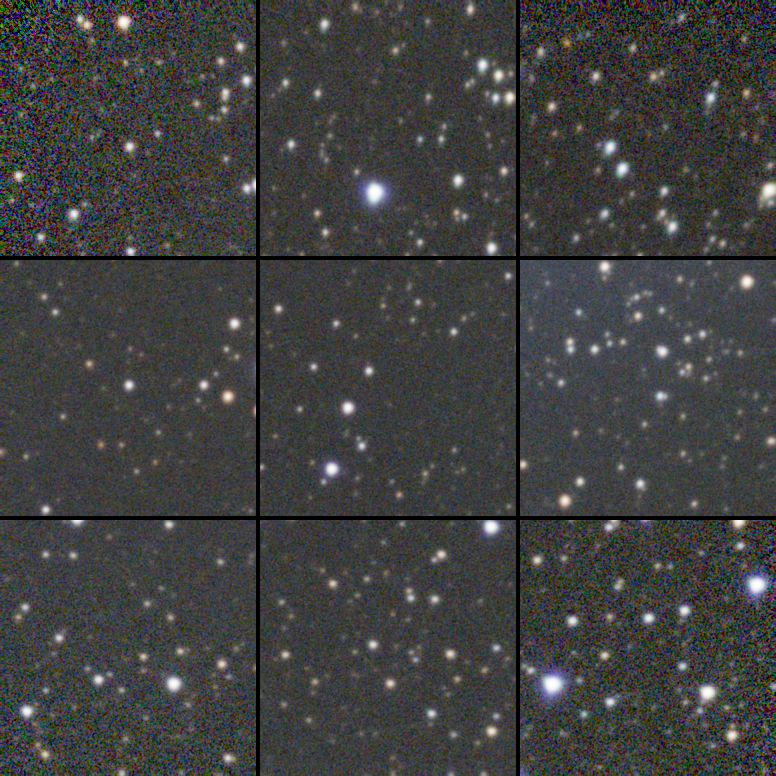 FWHM (single frame):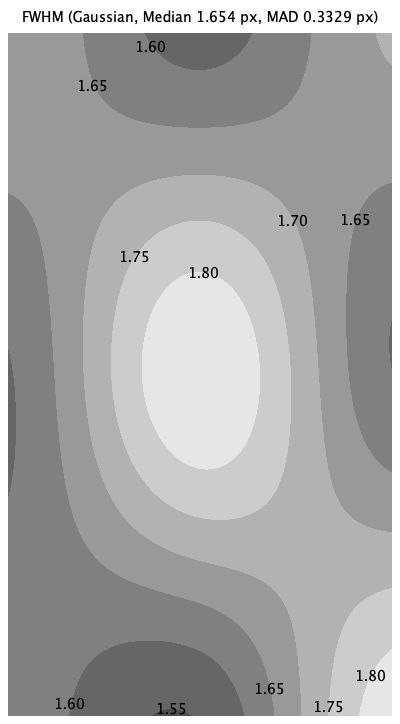 Eccentricity (single frame; just for completeness, not useful at the small FWHM):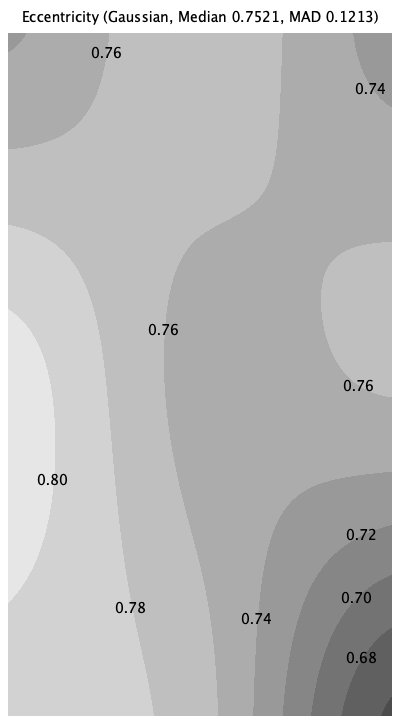 Solar (single shot):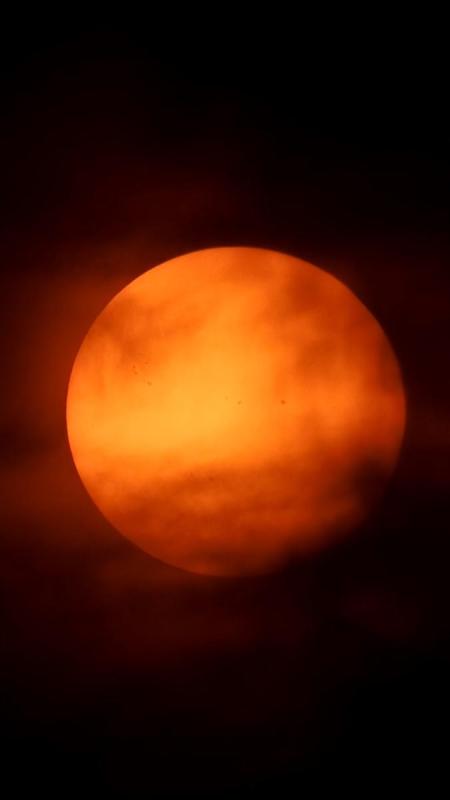 Edited by Rasfahan, 03 October 2023 - 07:58 AM.