Ok guys.. I know I'm running way behind this month, getting sick and then getting overloaded at work will do that to you. Next month we should get back on track.
But better late than never: Here is the January 2007 Cloudy Nights Imaging/Sketching Contest poll.
Each month the best images selected from the individual Cloudy Nights Imaging and Sketching forums will be presented for the userbase to vote on. The monthly winner receives the coveted Cloudy Nights t-shirt! At the conclusion of the poll, the entry with the highest total will be the winner of the contest..
Please choose your favorite out of all the images. This poll will remain open through Wednesday, February 28th at midnight EST.
Here are the entries for January!
Jason Aldridge
- Sketching Forum
Subject: Lunar Crater Langrenus
Location: North Port, FL
Date/Time: 1/5/07 - 2230-0025 EST
Instrument: 8" Zhumell Dobsonian
Eye Piece: 6mm Orion Expanse + 2x Barlow
Sketching Material: Strathmore Sketch Paper, 0.5mm #2 HB Mechanical Pencil
Software: MGI Photosuite III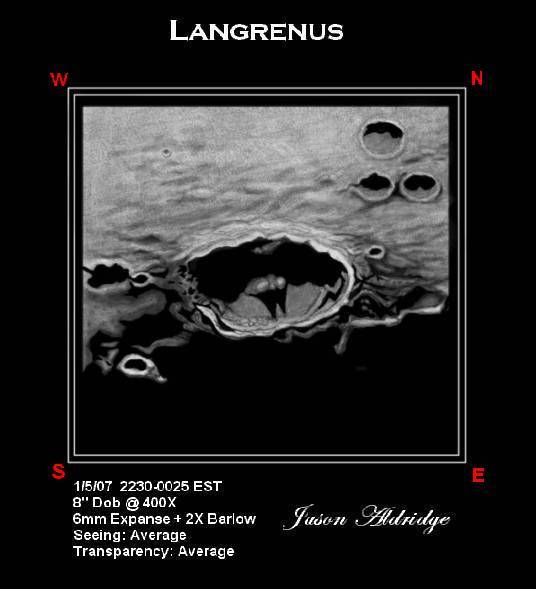 Corn
- DSLR & Digital Camera Astro Imaging & Processing
Rosette nebula
Scope: 8" Newt with MPCC and UHC
Mount: EQ6 Pro
Camera: 300D(IR mod)
Exposure: Mosaic of two images 2x9x600s ISO800
Loc: 2006/12/17 Uppsala/Sweden/Walter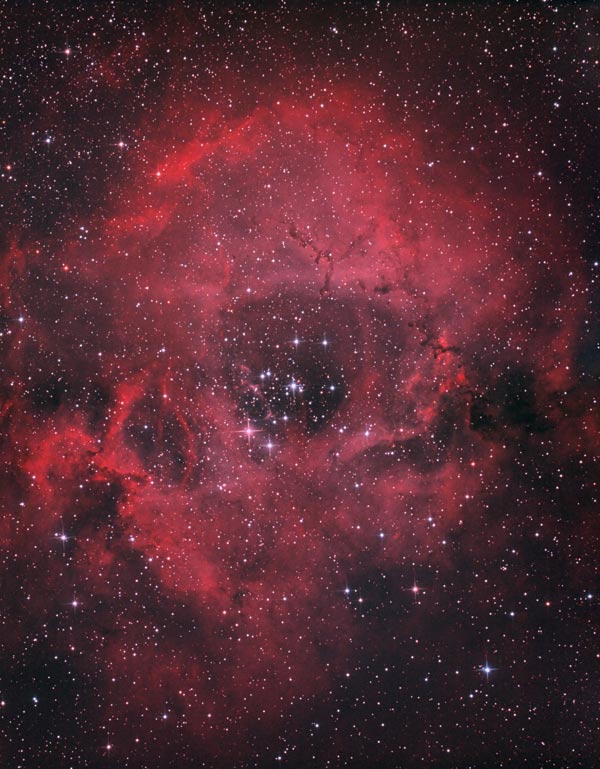 MichaelW
- CCD Imaging & Processing
Target: M1
Exposure: LRGB 40':Ha 120'
Location: Washoe Zephyr Observatory, Nevada
Sky Quality Meter reading: 20.33 @ 4*f
Date: 01/15/2007 & 01/16/2007
Time: 1900 - 2400 & 0000 - 0130
Camera: SBIG ST2000XM, AO-L, Astrodon MOAG, SBIG remote head
Temperature: -20c (practically not working at all )
Filters: Astrodon LRGB + 6nm Ha
Scope: Vixen VC200L @ 1800mm, 200mm f9
FOV: 16.9 x 22.6
Image Scale: .86
Mount: AP1200, not PEM trained yet. ~10 pixel +/- PE deviation @ .86 arc sec per pixel.
Reduction: Maxim DL, 12 darks median combined from library
Processing: Adobe PS CS2, levels and curves, dust and scratches, despeckle and very, very mild smart sharpen over the entire image.
I combined HaR and HaRL to create this image. HaR for the red layer, HaRL as luminance. Luminance layer was mixed at 40%. Much more and I began to wash out colors.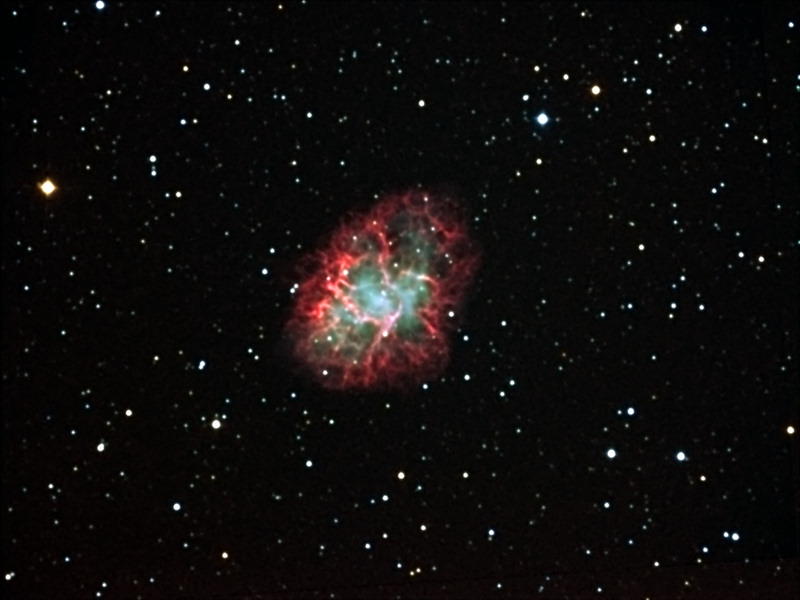 rumples riot
- Solar System Imaging & Processing
Sunspots 930 & 933.
Scope: Imaged with double stacked PST
Camera: DMK21AF04 at 30fps
Barlow: 2.5x TV Powermate
processed in Registax4 best 400 frames.
false coloured in PST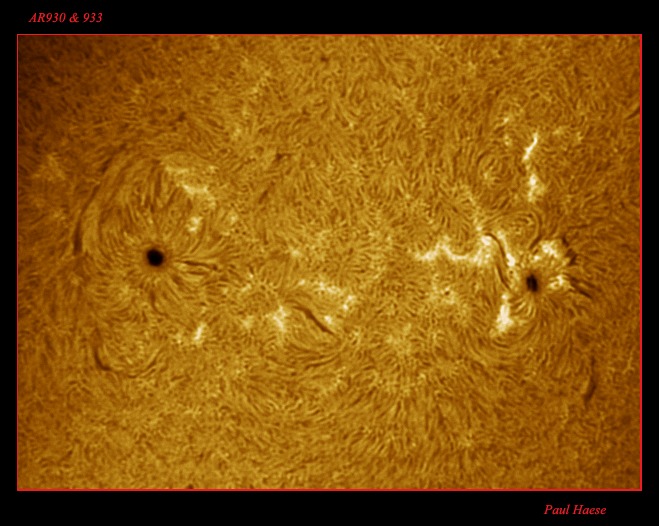 &nbsp